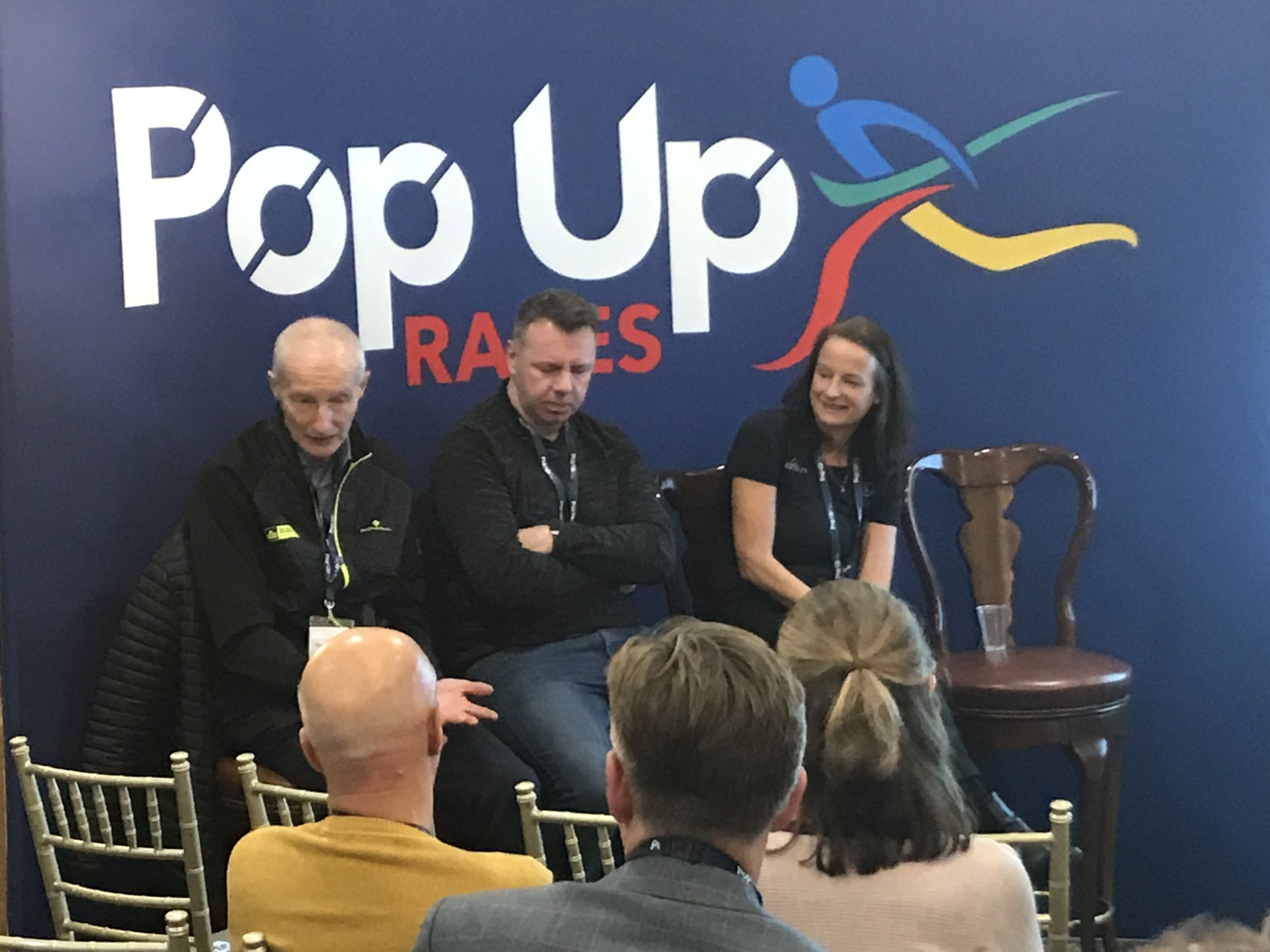 As the dust settles on the inaugural Pop Up Races Race Directors Summit, here are Pop Up Races 5 key takeaways from an insightful and entertaining night in Co. Kildare.
Teamwork
It was a common theme on the night, mentioned briefly in Brians opening address, and carried through each of the 4 presentations on the night. Olwyn spoke about her team at the coalface  of the VHI Womens mini marathon, and how by delegating to trusted colleagues, she was sure that any hiccups on race day (there are always hiccups) would be managed with minimum fuss from her team. John spoke again about his team, and how important it is to empower them through strong event management plans and good communication around expectations. Jim's insight into the sheer scale of the Dublin marathon was fascinating. His team and the stakeholders involved in the race mean there are thousands of volunteers, gardai and authorities involved to ensure race day goes off without a hitch.
So in short, you will not grow your event on your own. Surround yourself with a GOOD TEAM, DELEGATE to them and TRUST them.
Planning
The importance of a comprehensive Event Management Plan was also empahised by Jim, John & Olwyn throughout the night. Clearly defined roles, planning for all possible scenarios on the day (control the controllables) and keeping your event plan up to date were the key messages.
Sinead also empahsised the importance of planning when it comes  to attracting potential sponsors for your event. Know who you need to speak to, plan your pitch and prepare diligently for that pitch. 80% preparation, 20% selling.
Stand Out from the Crowd
Yes, the race market is at saturation point, so you need to be doing something different. Dave gave a great example of how a 400 participant fun run can generate a 5 figure sum for your organisation or charity if things are done correctly. His main point was simple, he had a reason for his race, he got the local community to rally around, and the event became a success.
One of Olwyns key messages was around having something unique. "Why will I go to your race, when I can go and do a free parkrun every Saturday morning?". You need a Unique Selling Point, and this needs to be clearly defined to help it resonate with runners. John used the great example of the Connemara marathon, which on the face of it, is the polar opposite to the New York Marathon, but yet people keep coming back, it's scenic, it's challenging and it's unique!
Appeal to the masses
You can put thousands of euros into a prize pot to attract elites to your event, and you might get a great race, but you'll have a poor event. It's important to appeal to everyone. A simple tip, take the word "Race" out of your event name. If you have prize money, by all means advertise it, but do not have it as your main selling point as you are then alienating a huge chunk of the market. So link in with a local charity, get local clubs to help with stewarding as an example. John used  the concept of "sub promoters", groups of people who are working with you to promote your event. Jim mentioned how important local clubs are to the Dublin marathon, and how conversations with the local priests (as an example) helped with the move from Monday to Sunday. In the end, the marathon ended up being promoted at local churches by the local priests who became sub promoters!
So give the masses a reason to run. A nice medal, a fast course, a worthy charity, a low entry price….
Sponsorship
When it comes down to it, the majority of events are done to raise money. And sponsorship is key to this. Sinead's insights into sponsorship were very insightful. Gone are the days when the sponsor throws afew quid to a race organiser as a goodwill gesture. The sponsor wants something back, and it's up to you to give them that. So you need to sell your race to them, and your pitch is key.
Sineads 6 tips to the perfect pitch are all you'll ever need!
Know What you are selling
It's about them, not you
Know your audience
Build the love
Show the potential for Return on Investment
Be Smart in closing
*A thank you to our 4 speakers, Olwyn Dunne (former Race Director, VHI Womens Mini Marathon), Jim Aughney (Race Director, KBC Dublin Marathon), John Cleary (Great Limerick Run / Eventmaster) & Sinead Galvin (Galvin Sports Management). Thanks to to David Matthews (Athletics Ireland) who facilitated the Q&A on the night.