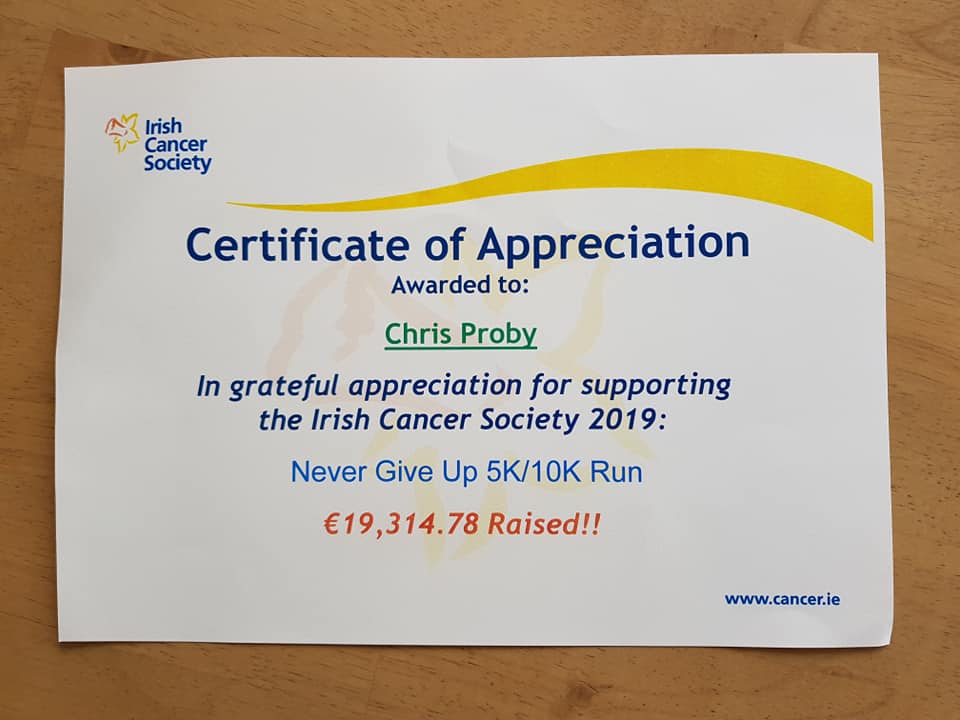 Event Details
Location

Wexford

Race Type

10k Run, 5k Run, 5km, 5km Walk

Date

26-07-2020

Time

11:30
Enter Now
Following on from the success of the sellout inaugural Never Give Up 5k/10k road race in 2019, the event returns on Sunday 26th July 2020.
For further details on this event, please visit the Facebook event page – https://www.facebook.com/nevergiveupchrisproby/
There is a 5k and a 10k option to choose from and both take you on a scenic loop around the countryside. Following feedback from our 2019 event, the 10k route in 2020 will be a single loop run. The course is an AAI measured route.
All proceeds of this event will be donated to the Irish Cancer Society, and the Arklow Cancer Support, two amazing charities helping us in the fight against cancer.
Here is a message from the Race Director, Chris Proby:
"In August 2015, just a few months after running the Manchester Marathon, I was diagnosed with an aggressive form of non-hodgkins lymphoma cancer at the age of just 32. Luckily due to a heavy chemotherapy and radiation treatment schedule I got the all clear in 2016, unfortunately 9 months later I relapsed. After further treatment, and a bone marrow transplant I eventually got the all clear again in June 2017. Needless to say it was an incredibly difficult and scary experience.
Running was a huge motivator to help keep me focused and determined to win the battle, twice. While I was in hospital I promised myself that once I beat cancer I would combine my love for running and my difficult cancer experience to create something positive, which is why I have organised this event. So come and join me in my home village for a great morning out, on a beautiful scenic route where I first started running, for two very great charities."
Early Bird Rates Expire soon, so don't delay, register now!
Prizes
Trophies for 1st, 2nd and 3rd male and female in both races.
Medals for all finishers.
Free Entry
For an individual who raises €80 or more on a sponsorship card, entry to either race is free (includes medals).
For a family (2 adults + 2 children) who raise a combined €120 or more on a sponsorship card, entry to either race is free (includes medals).
Corporate/Group Entry
Group discount rates automatically apply if you are booking for a group on the same ticket i.e. all 5k, or all 10k. Discount rates are as follows:
10% discount: 10-19 participants
15% discount: 20-29 participants
20% discount: 30+ participants
Virtual Entry
For anyone wishing to support this event but unavailable on the day, choose our Virtual Run Option below – just send us through details of your completed run (picture of watch / phone) and we'll send you on a medal for supporting this cause.
Please contact Chris directly when submitting Virtual Evidence or requesting a sponsorship card nevergiveupchrisproby@gmail.com
Donation Link
For anyone who can't make it on the day but who wants to donate, please click HERE, thank you

❤️
RACE DAY INFORMATION
Registration & number pick up will start at 9.00am on Sunday in St Mogues Community Hall, Inch. Registration will close at 10.45am sharp to allow the race start on time.
Timings:

10.30am kids dash
11.30am 10k start time
11.35am 5k start time
Both the 5/10k start approx 500metres from the Community Hall.  Please leave time to walk to the start line. Please note there are no toilets at the start line.
Londis of Inch is closeby for any pre/post race drinks, snacks, emergency blister plasters etc!
Please respect your route – no littering
Medals for all finishers.
Post race refreshments available in St Mogues Community Hall from 12.00pm.
Prizegiving, raffle winners and sponsorship card winner presentations will start at 1.00pm.
Your email will go directly to the race organiser. If you do not receive a timely response, please do not hesitate to contact us on office@popupraces.ie
---