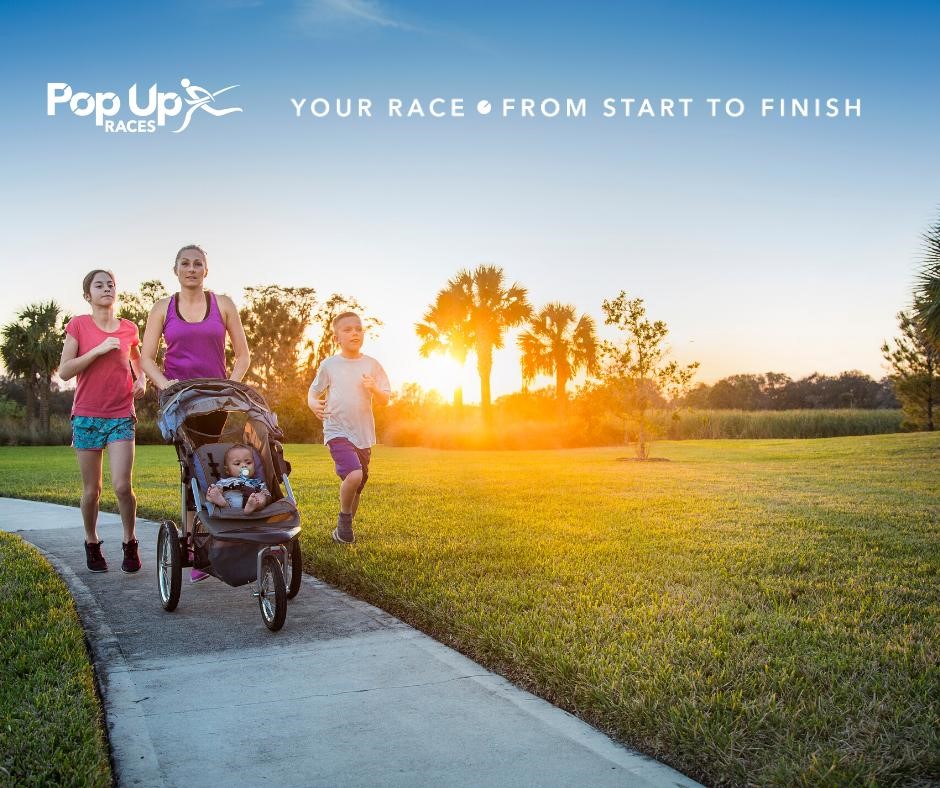 So you have signed up for a Virtual Run but are unsure of what it means or what to do, Not to worry, we've got your back. Check out our tips and information below:
What is a Virtual Run:
A virtual race is a challenge you enter where you are expected to complete a challenge (5km, 10km, 100km) and in turn you receive a medal or prize.
Virtual races are very similar to live races – you enter a race and when you finish you get a medal etc – but differ from live events in two key ways:
You can (usually) choose to complete the race whenever you like. Some virtual races are scheduled to start at specific times, but most can be run at the participant's convenience.
You can complete the race wherever you like. You can even do the whole thing indoors on a treadmill.
Essentially, participants run the race, well, virtually!
Where can I enter a Virtual Run:
At Pop Up Races, you have a couple of options for your virtual runs.
We host our own virtual races. You will find these on our upcoming events page
We host virtual races on behalf of our customers (clubs, charities etc). You will find these on our upcoming events page with "Has Virtual Option" in the description.
We partner with Wayne in Bling Hunters and assist him with registration while being his exclusive medal designer. Bling Hunters events can be found HERE
I have entered a Virtual Run – What next:
Now it's time to run. If it's 5km or 500km, you'll need a distance tracker (watch, phone app like mapmyrun, strava etc) and you need to complete your run. Some events have a cut off dates, most do not.
Pop Up Races: submit your evidence on our mobile app. Download our app now: Apple or Android

If you have done multiple runs, submit one combined time at the end
If it's a family run, again one combined time is fine

Bling Hunters: send evidence to the Bling Hunters Facebook page
My evidence is submitted – where is my Bling??
Depending on the event, it could be a week or it could be 8 weeks. But you're medal will be posted out for you to hang or wear with pride!!
Tips to help you
There are many apps available to map out a route.  Strava, Map my Run, Run Keeper, couch to 5K etc. There may already be routes available which allow you stay within the distance restrictions.
Consider running at a time you are less likely to meet people.
While a loop course or an out and back may not be your most scenic option, it will allow for home pit stops (poop options elsewhere will be limited) and a safe cheer zone for your family.
Whether it's time or distance related it's good to have a plan A, B and C particularly for the longer run.
With the temperatures finally beginning to rise, hydration is paramount.  An out and back route from home will allow for easy access to hydration and fuel.  Recruit one of the kids to be ready and waiting with your necessities and an encouraging 'keep her lit' shout out.
Virtually run with a friend
Plan with a running buddy to start at the same time where ever you are.  This will help you stick to your preferred day to run.  Maybe give them a call on your hands free to offer words of encouragement.
Award yourself for first place or at least in your age category!  Don't forget to treat yourself to that nice bath or shower.  Take time to relax and enjoy a nice treat.