On Tuesday evening, May 16th, hundreds of runners descended on Johnstownbridge near Enfield in County Meath for a thrilling 5km race, hosted by Na Fianna AC. The weather was perfect for running, and with a flat course ahead, the stage was set for a fast and furious competition.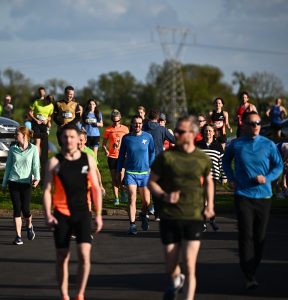 Over 900 participants had signed up for the event, including some of the best athletes from around the country. Among them were Ide Nic Dhomnaill (West Limerick AC) and Michelle Finn (Leevale AC) as well as  Eoin Everard (Kilkenny City Harriers) and Niall Shanahan (An Bru AC), all of whom were expected to put in a strong showing and compete for the top spot on the podium.
From the start, it was clear that this was going to be a race to remember. Everard and Shanahan surged ahead of the pack, and it very quickly became a two horse race, with a chasing pack led by Vinny Connolly (Mullingar Harriers) and Brian Maher (KCH) always battling for 3rd!
In the end, it was Eoin Everard who crossed the finish line first, using his trademark speed to pull clear in the end and complete the course in a time of 14 minutes and 33 seconds. Shanahan followed behind, finishing just 12 seconds later with a time of 14 minutes and 45 seconds.
In the women's category, it was an equally exciting battle between Ide Nic Dhomnaill and Michelle Finn. The two runners were neck and neck throughout the course, and In the end, it was Nic Dhomnaill who emerged victorious, completing the race in 15 minutes and 36 seconds, ahead of Finn who finished with a time of 15 minutes and 43 seconds. The West Limerick AC athlete smashed the course record in the process, and picked up an additional €500 from Peugeot Ireland as a result of her exploits on the night.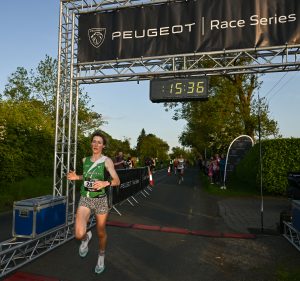 Overall, the Bob Heffernan & Mary Hanley 5km race was a huge success, and round 3 of this year's Peugeot Race Series did not disappoint. The fast course, perfect weather conditions, and fierce competition made for an unforgettable evening of running. Congratulations to all the runners who took part, and we look forward moving onto round 4 of the series in Tullamore this coming Sunday.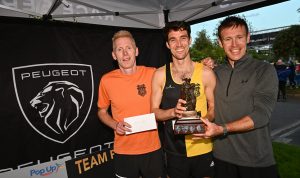 Results: https://www.popupraces.ie/race/bob-heffernan-mary-hanley-5k-road-race-2023/
Photos: https://www.facebook.com/media/set/?vanity=SweatySnaps&set=a.255013753711704