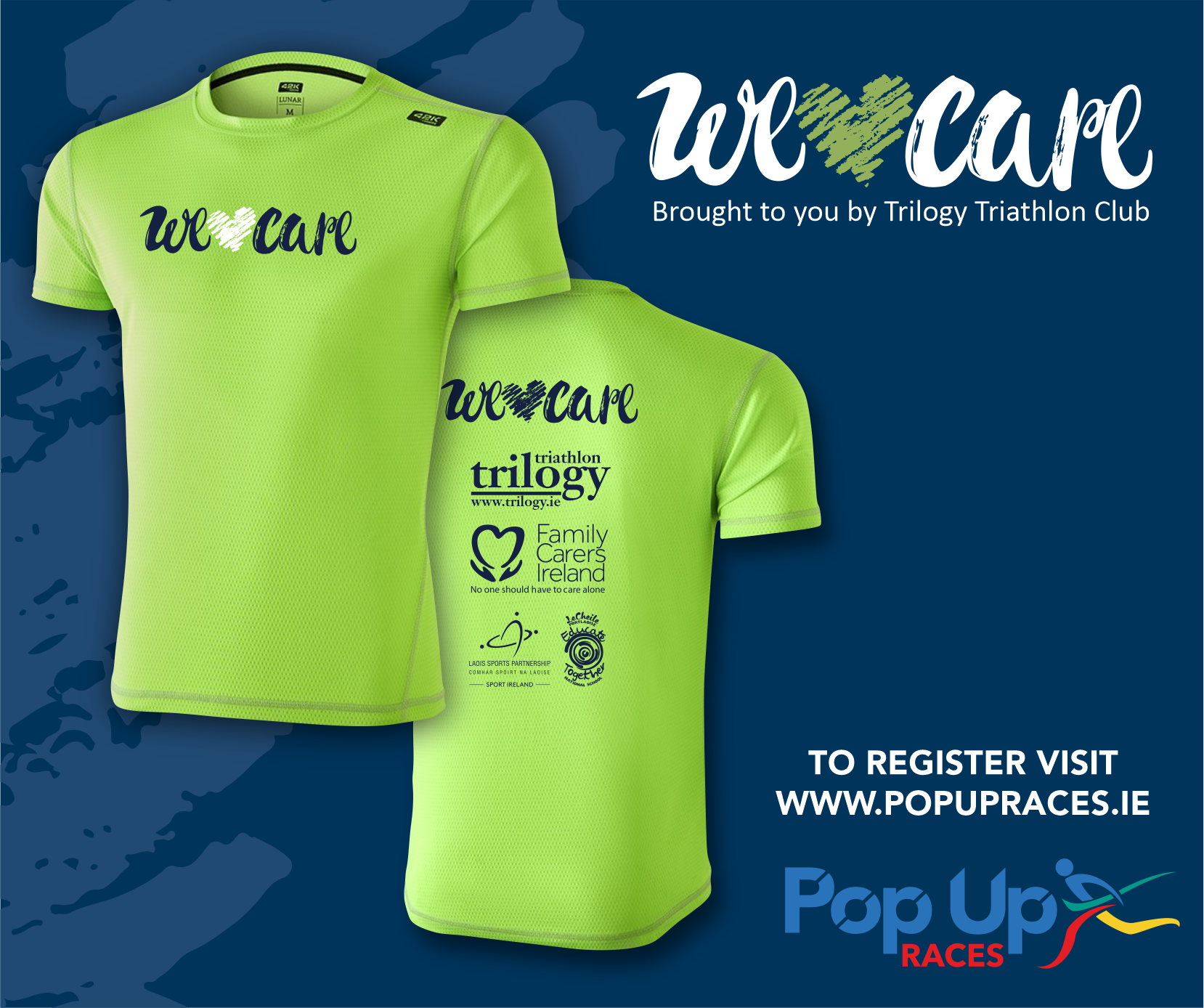 "The 'We Care' campaign in association with Trilogy Triathlon Club took place throughout the month of June. This was a fundraiser, organised by Trilogy Tri Club in Portlaoise, to raise funds for Family Carers Ireland, and to acknowledge the hard work family carers have provided to loved ones and family members during the pandemic.
The Challenge: Walk, run jog or cycle a 100km in the month of June.
Services provided by Pop Up Races:  
Online registration through our website and partners, Eventmaster
Design and sourcing of event t-shirts which participants had the option to buy during registration
Fulfillment and postage of these t-shirts to participants
Use of the Pop Up Races Virtual Hub on Eventmaster
Use of the Fundraising section on Eventmaster
Some feedback from the Event Organisers:
As a club we were looking for a comprehensive fundraising solution for our event. The integrated platforms of Pop Up Races and Eventmaster met all our needs. Brian's business and technical support was second to none, with Eventmaster delivering on all aspects of the fundraising portal. Easy access to the portal hub as an event host, meant we could market our campaign with precision.The Pop Up Races platform from a user's perspective, was fluid and transparent meaning uploading times along with access to leaderboards, meant the end user could participate fully in the virtual event. This platform is an excellent avenue for those looking to raise money and target a wide audience of participants, a good marketing campaign to assist this platform is a winning formula for clubs, companies and charities.
"Pamela Grogan – Trilogy"
The participant journey from registration to completion:
Participant registers for the event on www.popupraces.ie, and selects their preferred t shirt size during the process
 At the point of registration, a Fundraising Page, linked directly to the charity, is created for use by the participant to raise additional monies throughout the month of June (example below)
From June 1, entrants can log into their Eventmaster account to add their KMs and track their journey on the 100k Virtual Route from Dublin to Portlaoise. They can also download their virtual race bib, view leaderboards, and upon completion, download their certificate of completion.