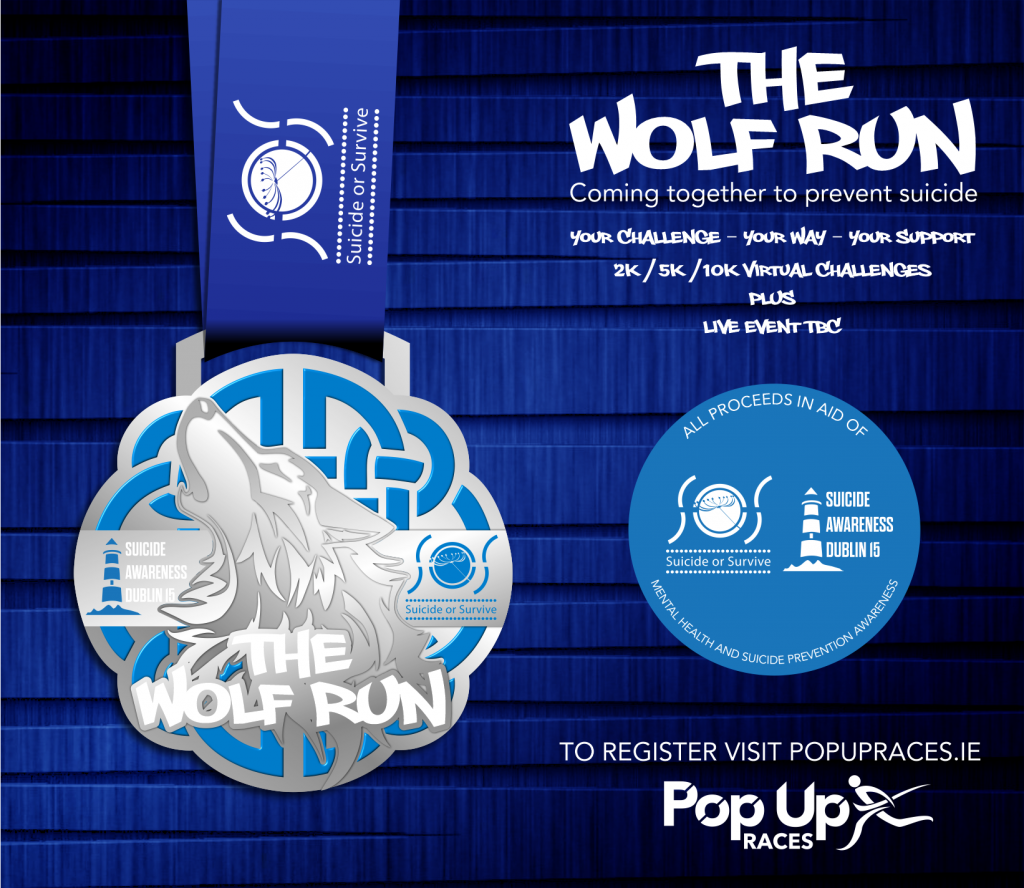 Following on from the success of 2020's inaugural Wolf Run Virtual Challenge, you are invited to join us once again as we come together to prevent suicide and to raise vital funds for Mental Health Awareness and Suicide Prevention, Intervention and Post-vention services. 
Our theme for 2021 year is:
Your Challenge – Your Way – Your Support
Your Wolf Run Challenge can be completed in your own time at a location of your choice:  You can choose to walk, run, treadmill, cycle, swim or any other form of exercise where you can record your preferred distance – 2k / 5k / 10k, etc.
WHEN DO I COMPLETE MY CHALLENGE?
Anytime between your booking date and Friday, 10 September 2020 (World Suicide Prevention Day).
You can complete your challenge in any location that suits you between your booking date and Friday, 10 September 2021 (World Suicide Prevention Day).
This flexibility will ensure you can complete your challenge conveniently, happily and safely in adherence to Government Covid Guidelines.
WHAT DO I DO WHEN I COMPLETE MY VIRTUAL CHALLENGE?
Submit your results: https://www.popupraces.ie/virtual-run-results/
or
Email your screenshot and your order confirmation number to wolfrunsos@gmail.com
or
Contact the Wolf Run Facebook page with your confirmation details.
MEDALS
Our beautiful new customised medal will be sent to all participants who confirm completion of their chosen Challenge so don't forget to send your evidence of
completion as set out above.
**Please note medals will be posted AFTER the Challenge has closed on 10 September 2021 and once confirmation of completion has been received**  
CAN I REQUEST A SPONSORSHIP CARD?
YES. Please email wolfrunsos@gmail.com to request a sponsorship card.
Free entry is available to anyone who raises €60 or more, or for a couple or family, if €100 or more is raised.
CAN I MAKE OR ADD A DONATION?
You can donate by clicking www.idonate.ie/TeamWolf2021 or during the online registration process.
CHARITY PROCEEDS
All proceeds raised shall be divided between:
Suicide or Survive – an Irish mental health organisation and charity focused on breaking down the stigma associated with mental health issues and ensuring that those affected have access to quality recovery services that are right for the individual
Suicide Awareness Dublin 15 – a local voluntary group supporting those bereaved through suicide or those who have or who are experiencing suicidal ideation and providing community response to suicide through Prevention, Intervention and Post-vention.
Here is a message from the Race Director, Lorraine Taylor
After the huge success of the inaugural Wolf Run Challenge 2020, I am thrilled to be launching Wolf Run Challenge 2021.
A massive thanks to each and every one of you who signed up last year and carried out your own chosen Wolf Run Challenge.  Some of you walked and jogged around your local parks and communities, some of you climbed the Stairway to Heaven and some even took on the heights Croagh Patrick.   We had solo participants, we had groups of families and friends, we had a bride and groom and we even had some gorgeous four-legged friends take part.  Whatever challenge you did, your participation and contribution made an enormous difference to those impacted by mental health challenges and in need of the support and recovery services provided by my nominated charity Suicide or Survive.
This year, I am inviting you to sign up for The Wolf Run Challenge once again – Your Challenge – Your Way – Your Support.
Whilst Covid restrictions are lifting at last, The Wolf Run Challenge remains a virtual event for the time being but I am hoping to be able to announce a venue for a LIVE EVENT closer to 10 September if Government restrictions and guidelines allow.  Keep an eye on social media for updates.
Having lost too many loved ones to suicide, including my dear brother Stephen in 2017, I know first-hand the devastation a death by suicide leads behind.  Recently, I read a quote which said: 'A suicide is like a pebble in a pond.  The waves ripple outwards.'  In the way a pond is changed by a falling pebble, an entire community can be changed by suicide.
In recent months, my own community was rocked by two tragic suicides – one a beautiful young girl of just 13 years, too young to know what the word suicide is never mind how to carry it out.  The second, a gentle mother and grandmother aged 84.  The impact of the past 15 plus months taking a detrimental and irreversible toll on her mental health.   There is no sense to either of these deaths.
All proceeds raised by this year's Wolf Run Challenge will be shared between my local voluntary support group Suicide Awareness Dublin 15 and Suicide or Survive, both incredible charities providing support in the areas of mental health recovery services, suicide prevention, intervention and post-vention.  Together we can help prevent other families and communities suffer the ripple effect fallout after a suicide.
Thank you for your support, stay safe, and most importantly enjoy your challenge.
Lorraine Taylor & Team