This is a November Challenge to raise funds for Dunshaughlin AC.
This event begins on November 1st and continues to December 1st.
There are 4 levels as outlined in the graphic below: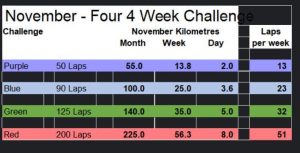 RESULTS: You can submit your KM's at the following link: https://www.popupraces.ie/virtual-run-results/
At the end of the challenge  we will total up all of the KM's run, so every one counts!!
Best of luck to all taking part.