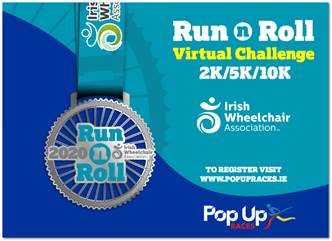 Event Details
Location

Race Type

Virtual

Date

26-06-2020

Time

12:00
Sold Out
UPDATE 2/6 2pm
ONLY 2019 medals remaining – image below:
Last few spaces!! Thank you all for your support
We need your support now more than ever!
Join us for this virtual run, walk or roll in support of the Irish Wheelchair Association.
This can be completed in your own time, and you can submit results via the Pop Up Races Mobile App.
Medals will be posted out to participants by the end of June or early July.
You can complete this challenge, indoor or outdoor by foot or by wheel but we must ask that you respect and adhere to all social distancing guidelines.
Choose your distance; 2k, 5k or 10k, sign up online, submit your result by May 31st and your shiny,new, bespoke medal will arrive in the post.
All proceeds from this event will go to Irish Wheelchair Association's Resource and Outreach Centres that continue to provide vital services for people with physical disabilities in their local communities.
Due to the current pandemic our September Run 'n' Roll event has been replaced by this virtual race and as most of our fundraising has been suspended, we need your support now more than ever.
The Irish Wheelchair Association celebrates its 60th anniversary this year and we'd love you to share in our celebrations by uploading a pic to social media on completion of your challenge using the hashtag #60yearsrolling
For more infomation about virtual runs, click here: https://www.popupraces.ie/2020/04/the-virtual-run-all-you-need-to-know/
Email: runnroll@iwa.ie and PH: 0870506946
When do I have to complete the distance by?
There is NO DATE OF COMPLETION TIME FRAME.  Please run/walk/jog your chosen distance at your own convenience.  Anytime and any day that suits you.  Stay Safe.
Can I complete it over a number of runs?
MULTIPLE Run/Jog/Walks to complete the distance is accepted.  (Just submit the combined time when uploading to the Pop Up Races app.)
Can I Change distance after registering for the Virtual Run?
Moving up or down chosen your distance is no problem.  When submitting result please remember to choose distance actually completed.
How do I upload my time/confirm completion?
HOW TO UPLOAD TIMES TO THE POP UP RACES APP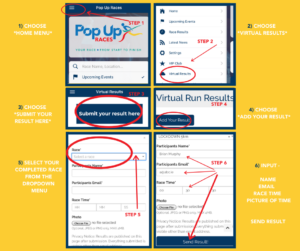 I uploaded to the wrong race, what do I do?
Re upload to the correct race.
I uploaded incorrect time?
Re upload with correct time.
How do I know I uploaded correctly?
You will receive a confirmation email.
I received my confirmation email but don't see my time on the results page?
There may be a time delay of a few days before you see your time on the results page.  There is a transfer of results from the app to the results page twice a week.
Your email will go directly to the race organisers. If you do not receive a timely response please do not hesitate to contact us on info@popupraces.ie
---