The 2020 "Runlavin" will be a Virtual Event due to the ongoing Covid-19 pandemic.
What is a virtual run? Have a look at our handy guide which will hopefully tell you all you need to know.
Medals are ready to be shipped w/c 11th May, so get registered, get running and get your evidence into us via our mobile app!
Runs can be completed up to the end of May.
This event is being held to raise funds for the ongoing upkeep and improvement to the facilities of Dunlavin GAA club.  These facilities are available and of benefit to the entire community of Dunlavin and the surrounding areas.
The Bling: 
Virtual Running – FAQ
When do I have to complete the distance by?
There is NO DATE OF COMPLETION TIME FRAME.  Please run/walk/jog your chosen distance at your own convenience.  Anytime and any day that suits you.  Stay Safe.
Can I complete it over a number of runs?
MULTIPLE Run/Jog/Walks to complete the distance is accepted.  (Just submit the combined time when uploading to the Pop Up Races app.)
Can I Change distance after registering for the Virtual Run?
Moving up or down chosen your distance is no problem.  When submitting result please remember to choose distance actually completed.
How do I upload my time/confirm completion?
HOW TO UPLOAD TIMES TO THE POP UP RACES APP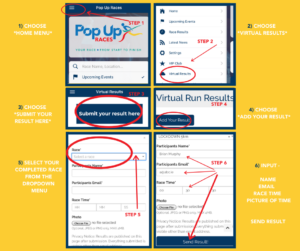 I uploaded to the wrong race, what do I do?
Re upload to the correct race.
I uploaded incorrect time?
Re upload with correct time.
How do I know I uploaded correctly?
You will receive a confirmation email.
I received my confirmation email but don't see my time on the results page?
There may be a time delay of a few days before you see your time on the results page.  There is a transfer of results from the app to the results page twice a week.