The penultimate round of the 2023 Peugeot Race Series took place at the Edenderry 10 Mile Road Race, and fittingly, it was Offaly Athletics and Ferbane AC legend Mick Fogarty that led the field home, taking the win in a time of 53 minutes and 49 seconds, over a minute clear of Clane AC's Gavin Kelly, with Andy Nevin from Mullingar AC completing the podium with a fine 3rd.
With over 400 registered and close to 400 finishers, the race was another great success and testament to the hard work that goes on behind the scenes by the race committee. Participants had the option of the 10 mile race or the 10 mile relay which again proved a popular option this year.
As has been the case for many Peugeot Race Series events, Dundrum South Dublin AC were well represented on the podium with Sarah Mulligan and Niamh Devlin taking 2nd and 3rd respectively. But there was no doubting who the star of the show was, as Tullamore AC's Laura Mooney dominated the women's race to win in a time of 58:17.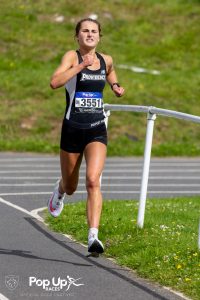 The podium places coupled with some solid performances elsewhere meant that Dundrum South Dublin AC again took maximium points in the Peugeot Race Series Team event, and with the perfect score of 70 points (7 wins from 7 races), they have wrapped up the €10,000 top prize with a round to spare.
Clane AC strengthened their position in 2nd place with another 2nd overall, while Mullingar Harriers, 4th in Edenderry, remain in 3rd overall ahead of the finale in Cork on August 20th.
In the indiviual standings, both Eoin Everard and Ide Nic Dhomnaill have done enough in the earlier rounds of the series to take the €1500 top prizes there, but second place and the €1,000 is still up for grabs in Cork.
Results: https://www.popupraces.ie/race/edenderry-ac-10-mile-road-race-2023/
Photos courtesy of Sweaty Snaps: https://www.facebook.com/media/set/?set=a.289252353621177&type=3