Back To Race List
Online entry now closed.  On the day entry available in  Saint Mary's National School,Ballinacor East, Kilbride Co Wicklow.
Registration will start at 8.30am and will finish by 9.45am. 
The Wicklow Santa Dash 5k/10k run/walk will take place on Sunday 15th December.  We also have the Kildare Santa Dash Sunday 22nd December and we have a very cool 2 piece jigsaw medal to cover both events.
Please note the change of venue for Wicklow Santa Dash. The race will now start at Saint Mary's National School,  Barndarrig, Co Wicklow, A67R296
Medal pics and t-shirt images to be released in the coming weeks.
If you can't make either event you can do a virtual run or walk to complete the jigsaw. Both medals will look really cool as single medals but when joined together they are amazing.
Please note: the virtual medals (single and complete jigsaw) will be posted out 19th December
Our charity partner is Our Lady's Children's Hospital Crumlin and if you take a sponsor card and raise a minimum 140 euro it's free to enter medal plus tshirt free.
We will have facepainting, music, kids dash and refreshments on the day so get the family together and head for the garden county.
****** Enter now to avail of reduced online rates.********
On the day registration rates will be as follows:
Adult 5k –  €20.00
Adult 10k –  €23.00
Child 5k –  €15.00
Family 5k  –  €65.00
Check out our t-shirt for 2019 – available to purchase on it's own or with race entry.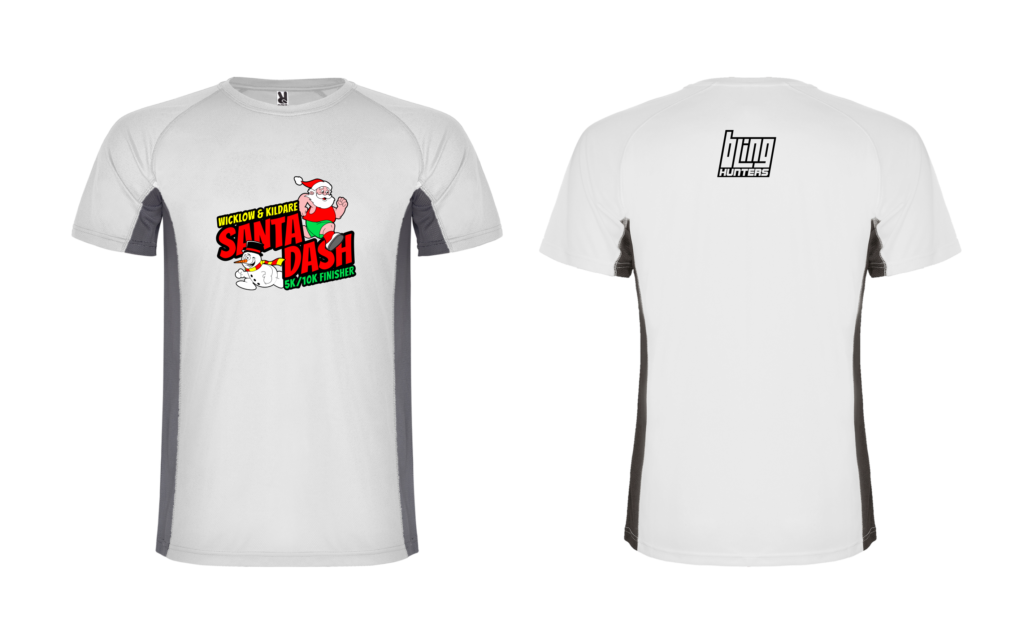 Race day information from the organiser is below.
REGISTRATION:
Registration will take place at Saint Mary's National School,Ballinacor East, Kilbride Co Wicklow.
If you are having trouble getting that address up on Google maps then put in Barndarrig Service Station, Kilbride Co wicklow.
Look for the old pub along that stretch (200 metres). It's called Lil Doyles. You turn up the road beside that pub and the school is on the left.
Registration will start at 8.30am and will finish by 9.45am. 
PARKING
Please carpool if possible as parking will be very tight. Parking options are as follows:
You may park in the car park at the front Lil Doyles Pub
or make your way past the school up the hill and take the 1st right turn. You will see the church on your right. You have 2 small carparks on the left accross from the church.
Parking is also available on both sides of the old N11 accross from the pub Lil Doyles on the hard shoulder. There is very little traffic using this road since the new motorway went in.
We will have stewards on site to guide you - please follow their instructions.
Please park neat and tidy.
RACE START TIMES
The kids dash will take place at 9.40am on the school grounds. All kids get a medal but not the jigsaw piece
The 10k will start at 10.00am and the 5k at 10.10am
RACE ROUTE 
The route is a very quiet route with very little traffic but this does not mean no traffic. Please use your heads and common sense. Its an out and back run and the 5k will run out 2.5 km where you meet a sign telling you 5k turn around here and go back.
The 10k will keep going until the 2nd sign which will say 10k turn around and go back. You will have a water stop on the 10k and the finish line. 100 metres past the 10k water stop will have a sign that says bottle drop. This is the only place to drop bottles and anywhere else is breaking the law. You can also carry it back to the school.
OTHER INFORMATION
Please be responsible and do not litter the school.

Toilets are available in the school

Refreshments back at the school and raffle will take place roughly around 11.15am
We had to change the venue and route last minute due to roadworks and the school kindly allowed us to use the school so we will have a donation bucket to cover electricity costs so if you have some change the school would be so grateful.
The medal is a 2 piece jigsaw to cover the wicklow santa dash and the kildare santa dash 5k /10k so if your thinking of signing upto both events I'd be doing it ASAP as they are almost gone.
If you can't make one of the events you can sign upto the virtual run, walk, treadmill or cycle challenge to earn the 2nd piece
If you need anymore information you can contact Wayne on 0862005652  or Irishblinghunters@gmail.com