Back To Race List
Wexford Marathon 2019, proudly sponsored by Sports Active Wexford and Visit Wexford in conjunction with Wexford Chamber of Commerce, Graphedia and Clayton Whites Hotel.Taking place on Sunday the 9th of June 2018 at 9.00am
Join us in the sunny south east to take on our new flat, fast marathon course, Wexford Marathon 2019.  Starting in the picture perfect surroundings of Wexford Quay front, the route takes you out the Rosslare Road and returning back and finishing again on the quay. There are 10 water stations enroute.
Number collections will be from 12.00pm until 5.00pm on the 8th of June and again on the morning of the marathon from 7am in Clayton Whites Hotel.

What's included:
The course is fully marshaled, with motorbike, bicycle, static and flag marshals.   

There will be 10 water/nutrition stations on the course which are sponsored by Dunnes Stores and Coca-Cola.
We have pacers on the course to help you reach your goal time.

Beautiful new finisher medals and new marathon technical t-shirts for all participants.

Complimentary finger foods will be provided by Clayton Whites Hotel where prize giving will also take place.
The event is fully insured.

Mandatory finish line hugs! 
Relay options available also – 4 members per team taking on approximately 1/4 of the course each.  Buses will be organised to start/finish points for the teams.
Marathon Prize Money
€350.00 1st Male and Female
€150.00 2nd Male and Female
€50.00 3rd Male and Female
Relay teams: Perpetual Trophy for the year & medals for all team members.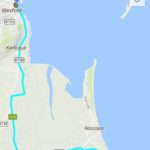 RACE DAY INSTRUCTIONS
Number pick ups will be in Clayton Whites Hotel on Saturday the 8th from 12pm till 3pm and again on Sunday from 7- 8 am. The hotel is only minutes away from the start/finish on Wexford Quay.
As you know, this is the 2nd year of our new flat course, a big change from the hills! We are expecting some great times on the course again this year.
We are starting on the quay running out to Drinagh, where we turn at the farmers Kitchen down to Killiane Castle, turning right back out onto the Rosslare Road and then straight on out to Rosslare Strand and then turning back towards the harbour. There is a wide hard shoulder the whole way out, we are keeping everyone on the same side of the road so please be mindful to keep to the left of this hard shoulder at all times to allow people running back towards you clear passage.
We have water stations every 2.5 miles. These will be stocked with jellies, kids water, water cups, Coke and fruit!
Littering will not be tolerated. Anyone seen to drop bottles etc on the course will be disqualified without exception. Bottles can be dropped at marshal points only. There are approximately 30 marshal points along the route.  DROPPING BOTTLES = INSTANT DISQUALIFICATION - NO EXCEPTION.
There will be 4 portaloos on the quay at the start finish area. There will be 2 more at the quarter way point and 2 more half way (These will be at the relay changeover points).
We are finishing this year on the quay, so please do not turn down into the Faythe!
Massive thanks to everyone in Clayton Whites Hotel who are putting on a spread afterwards for all runners, so please come and join us in the hotel. There will be sandwiches, hot finger foods, tea, coffee and refreshments.
RELAY instructions:
All relay teams should meet on the quay. Wexford Bus will be taking you to your changeover points and they will be parked opposite TK Maxx.
If you wish to leave a drop bag to have when you finish your leg, we will take them before the start. Make sure to give yourself plenty of time so we can get these onto the buses for you.
You will have a snap wrist band that must be passed from runner to runner along the course. The last runner must have his/her band coming back! The last runner must wear the timing chip!
Parking
There is plenty of parking off the quay. The car park opposite TK Maxx should be very quiet on Sunday and is just €2 for the day. Clayton Whites have reduced rate parking for any participants, but this will be on a first come first served  basis and the carpark tends to be busy with residents.
Other Information
The course is AAI measured, fully insured and marshalled.
We have an ambulance crew and a mobile paramedic on the course (please God not needed).
Technical T-shirts for first 250 marathon and relay runners to pick up their race packs.
We are chip timed with Pop Up Races and we have pacers for 3:30, 3:45, 4:00, 4:15, and 4:30.
Prizes
We have our Relay Trophy for the winning relay team, and medals for each team member.
Marathon: We have €350 for 1st male and female. €150 for 2nd male and female. €50 for 3rd male and female.
Looking forward to seeing who's name will go on our perpetual marathon winners trophy this year.
Finally, thank you to our sponsors , Wexford Bus, Coca-Cola, Dunnes Stores, Qilta, Graphedia, and Clayton Whites Hotel for their continued support.
Also thanks to An Garda Síochána, Wexford County Council for their assistance in setting up this event.
Wexford Marathon and Team Relay in conjunction with Wexford Chamber in support of our nominated charity It's Good 2 Talk Counselling Support…….