Back To Race List
This weeks Thursday club gives runners the choice of taking on a 10km (staggered start based on your expected finish time, quickest runner goes off last and tries to catch the runner that went out first!)
The course will be the "Back Loop" in Mondello, so the 10km will be 6 laps of this loop.
If he full 10km isnt for you, why not look at the 2 person relay option, split it up however you wish (3 laps each, 2 lap/4lapm it's up to you). This is a great option if you would like to treat your race as a session (3 x 1 mile, recovering between each one as your partner does his or her mile!)
Start Time: 7pm
Beautiful AGAINST THE CLOCK Medal for all participants
Further details in "Info/FAQ" tab
Race takes place in the back part of the circuit on a 1.67km loop. Enter Mondello at Gate 4, and TURN RIGHT AT THE HUT, FOLLOWING THE SIGNS FOR THE DRIVING SCHOOL.
*Follow the road around, it goes onto a Rally Cross Section, drive to the end of this and park up, Then walk to the far side of the portacabins where you will see the start area.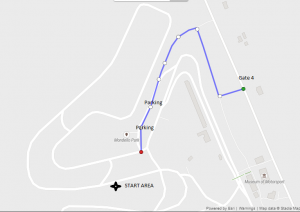 Looking forward to welcoming you to Mondello Park tonight for our 5th running of  "The Thursday Club". Tonight's race is a 10km "staggered start" race. Please read the following guidelines below to ensure the event runs smoothly.

COVID 19 - If you are self isolating, awaiting test results, a contact of a person self isolating, or if you are feeling unwell, PLEASE DO NOT ATTEND!
First runner will start at 7pm, with the last going at 7:15pm.
PLEASE FAMILIARISE YOURSELF WITH YOUR START TIME WHICH IS AVAILABLE HERE. (Lower numbers tonight as we had a number of cancellations due to Dublin restrictions, but we'll carry on!)
Number pick up & from 6:30pm. If you have ordered a Number for Life recently, this too will be available for you at the number pick up area.
You pick your race number up at the Pop Up Races Van which will be located at the start line (see directions above)
Lap Guide HERE (6 laps for 10km)
BE PREPARED FOR YOUR GPS TRACKING DEVICE TO BE WRONG BECAUSE IT WILL BE. The course is measured with a measuring wheel and is 100% accurate. GPS devices are very unreliable in Mondello as it is a looped course with lots of turns. So please, trust us on this, Your watch WILL BE WRONG and you'll get anywhere from 9.7km to 10,4km depending on make and model!!
Venue is Mondello Park. Entry VIA gate 4, turn right and follow directions as set out above.
There will be water & a medal at the finish line. Self service, help yourself to one of each!
Online registration closes at Noon today

Results can be found here, after the race, and there are plenty of pics over on our Facebook page too.

Any queries drop me a mail directly (bconroy@popupraces.ie)