It's "The Great Irish Staycation, 2021"
This is a 160km Challenge with a difference. 
You can register anytime as long as there are tickets available.
The Challenge:
32 Counties, 5km (Virtually or physically) per county = 160km
Walk, Run, Swim, Cycle
Join our dedicated Facebook group which will open in late May to share your journey and add your evidence
Add a county each time you complete 5km and fill up the jigsaw throughout the summer!
The Medal:
It's a collectors item!! 33 pieces, 32 counties along with the main piece, and comes packaged in a premium box. You will receive the full medal and counties prior to June 1st. You then complete the jigsaw in your own time over the 3 months, completing 160km and adding a county piece for every 5km you do.
The front / back:
The medal will be shipped, via courier, by the end of May, so it is hoped all participants will have it in advance of the start of the challenge on June 1st.
*This is a Virtual Walk-Run brought to you by Pop Up Races. It will run from Jun 1st to August 31st, 2021, and will be 160km.*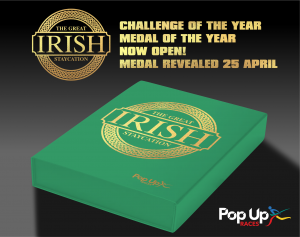 It's an expensive medal:
Yes it is, but we are confident it is worth the entrance fee. It is a 33 piece medal, in premium packaging and delivered via a private courier. We have negotiated hard and changed the design to get the cost of the medal as low as possible.
Delivery Update:
Customers on the island of Ireland: Your pack will be picked up at our depot today and be delivered by DPD in the next 48 hours.
Customers in EU countries: Your pack will be picked up at our depot today and be delivered by DPD in the next 7 working days.
Non EU / Rest of World: Your packs will be posted with An Post today. They have advised of up to 2 week delivery times to the UK / US / AUS and the rest of the world
Facebook Group:
If you would like to join our dedicated Facebook group, you can do so by requesting to join here: https://www.facebook.com/groups/142696791137322/
We would like this group to be a friendly, encouraging environment, and will use it as a customer service portal also, so any questions, please ask them in here and we'll try help you out.
The Challenge Itself:
We have had a lot of requests about completing the challenge, and have decided that we recommend it being done in either of the following ways:
160km in your own time over the next 3 months (walk, jog, cycle, swim...however you wish). Each 5km you do represents a county in Ireland (32 counties) so complete the medal accordingly
32 Days of walking/running/cycling etc over the next 3 months. Each day you complete a 5km or more, add a county to the medal.
WE WILL NOT BE MAKING IT A REQUIREMNT TO SUBMIT  EVIDENCE ANYWHERE. OUR DEDICATED FACEBOOK GROUP CAN BE USED TO SHARE STORIES OR UPDATE US ON YOUR PROGRESS.
Fueling your Challenge:
Our friends at DB Beans have kindly offered all customers a 25% discount on their award winning coffee beans. Head over to www.dbbeans.ie and use the code STAYCATION2021 on any of their products to receive a 25% discount.