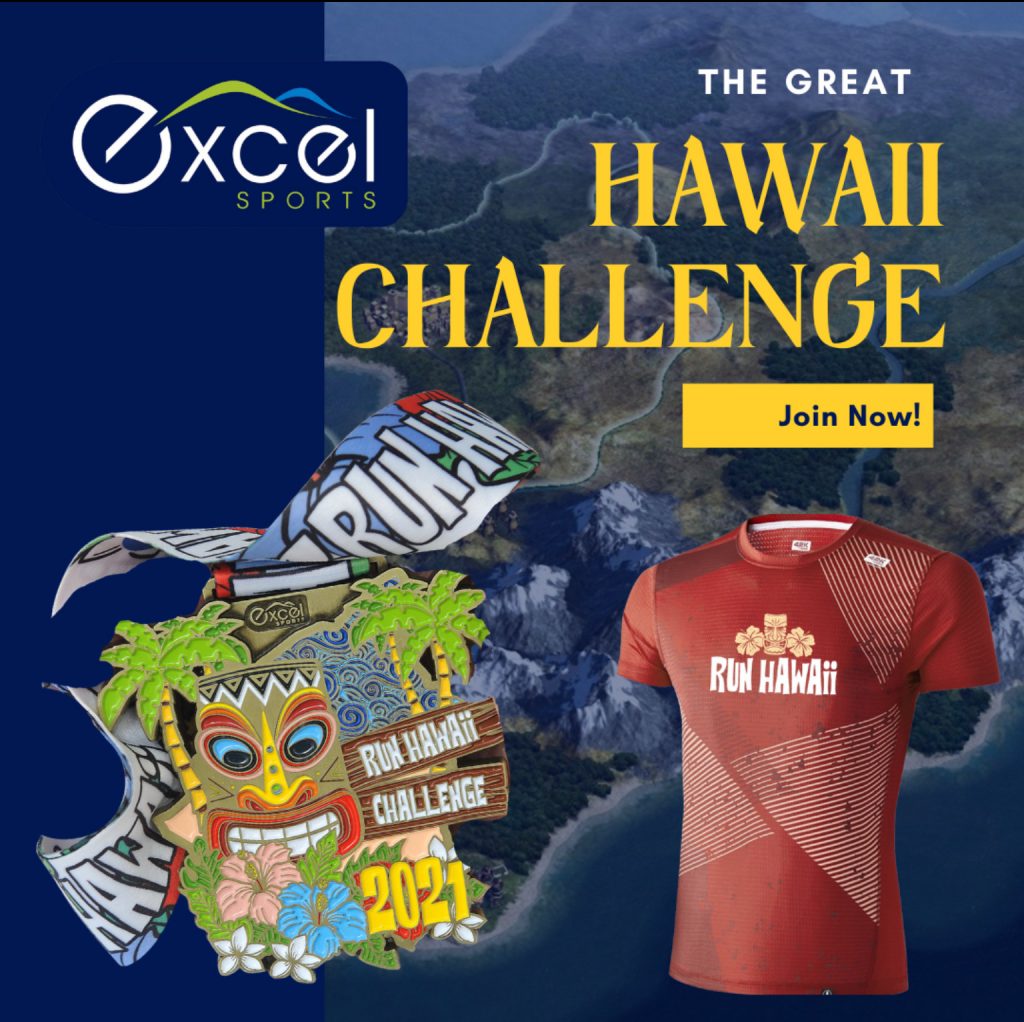 Brought to you by EXCEL SPORTS
*SPECIAL OFFER FOR MARCH – FREE T-SHIRT FOR ALL REGISTERING FOR THE MONTH OF MARCH**
Sign up to our Virtual #hawaiichallenge in February and receive a FREE pair of Steigen Premium running socks worth €15 with every registration.
A Virtual Challenge is a great way to get moving, start an exercise routine, and stay motivated in the coming months or for LENT.
You can Walk / Run or use any physical activity to count towards this Virtual challenge from the Big Island in Hawaii
Choose from 100 miles or 470k and complete on your own timeframe.
JUST €29
includes amazing Medal, Buff, Race Number, Finishers Certificate, Facebook group.
Welcome to the Island of Hawaii
Event Information.
The island of Hawaii is the youngest and largest island in the Hawaiian chain. Nearly twice as big as all of the other Hawaiian Islands combined (hence, its nickname, "Big Island"), its sheer size is awe-inspiring. You can travel through all but four of the world's different climate zones here, ranging from Wet Tropical to Polar Tundra, a result of the shielding effect and elevations of the massive volcanoes Mauna kea and Maunaloa. From the many geological features at Hawaii Volcanoes National Park to the snow-capped heights of Mauna kea; from the lush valleys of the Hilo and Hamakua Coasts to the jet-black sands of Punaluu Beach, the island of Hawaii is an unrivaled expression of the power of nature
Strava Club.
We have set up a Club on Strava for those that use the App.
https://www.strava.com/clubs/excelrunhawaii
Facebook Group.
We have set up a Facebook group for the event, where people can share photos of their progress, their own training routes, and be able to interact with each other. The group tends to be a great Social outlet for some people, who may need this in these strange times.
You can access the Facebook group at https://www.facebook.com/groups/682407915739057
TRACKING SHEETS.
Some people like to record their activities on paper, simply write down each day what they have done. Tracking sheets can be printed from the link below. This is also a great way to get your kids involved, as they will copy what you do.
Print them out their own sheets, and this may encourage them to get outdoors and be active with you.
VIRTUAL POSTCARDS.
Click on link to view the postcards from Hawaii 100 mile challenge.
Click on link to view the postcards from Hawaii 470k challenge.
When you complete your 470k challenge, you can email us at excelsportrun@gmail.com
Your merchandise will be posted out then.