Back To Race List
*******ONLINE ENTRY IS NOW CLOSED. REGISTRATION IS STILL AVAILABLE IN "SPORTSMASTER" IN CELBRIDGE AT ONLINE RATES. REGISTRATION WILL ALSO BE AVAILABLE AT THE FOLLOWING RATES IN STRAFFAN COMMUNITY HALL FROM 8PM -9PM TONIGHT (FRIDAY 1ST MARCH) AND 08.00AM TO 9.30AM ON SATURDAY 2ND MARCH.***********
Straffan 10k and 5k Community race will be held on 2nd March 2019  @ 10am , Straffan Community Hall
The 10k is an AAI measured route, and will take place around the roads of Straffan.
The course is flat (similar to 2018) and there will be medals at the finish line for all competitors.
There will also be a 5km FAMILY EVENT taking place on the day, open to walkers and runners of all abilities.
Post race goodies in the hall after the event.
Note that prices will rise by €5 per Race if you register on the day so register online to avail of these special discounted rates.
Registration also available at the sports shop" Sportsmaster", Celbridge at the discounted rates.
On the day entry fees
Single   10k event   20 euro
Single     5k event   15 euro
Family    5k Event    25 euro
Registration and number pick up will take place from 8:00am at Straffan Community Hall, with the race starting at 10am sharp.
Parking will be available in Church of Ireland, Straffan (Opposite Gala Shop)
Medals for all finishers.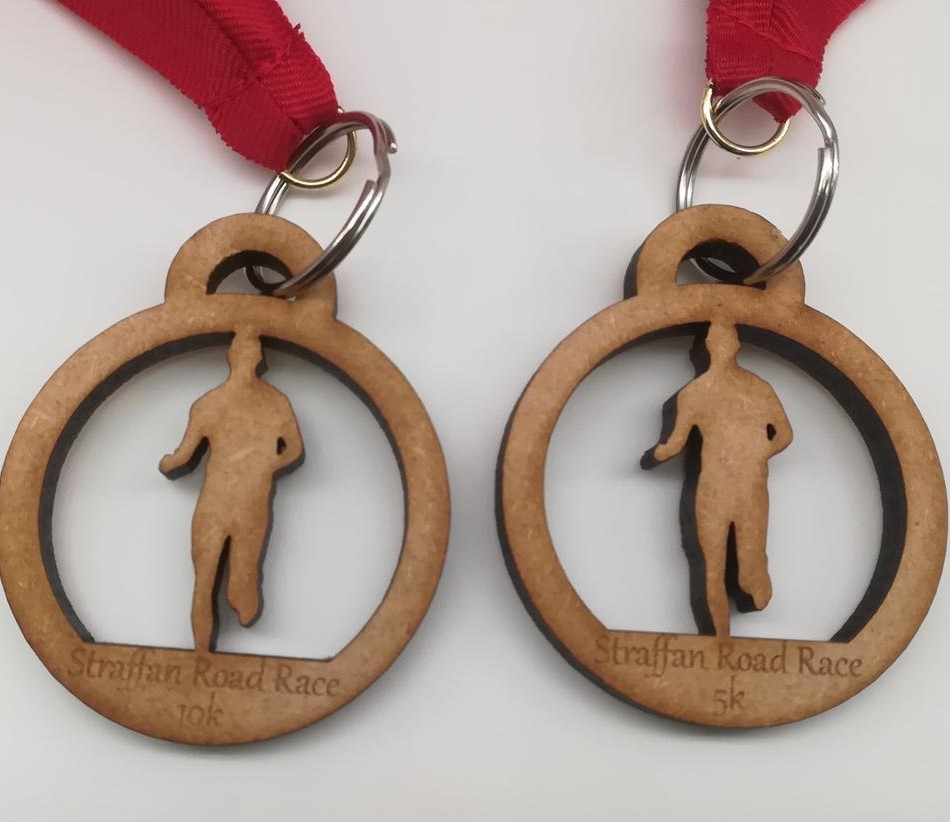 Route map available to view in FAQ section.
Looking forward to seeing you there.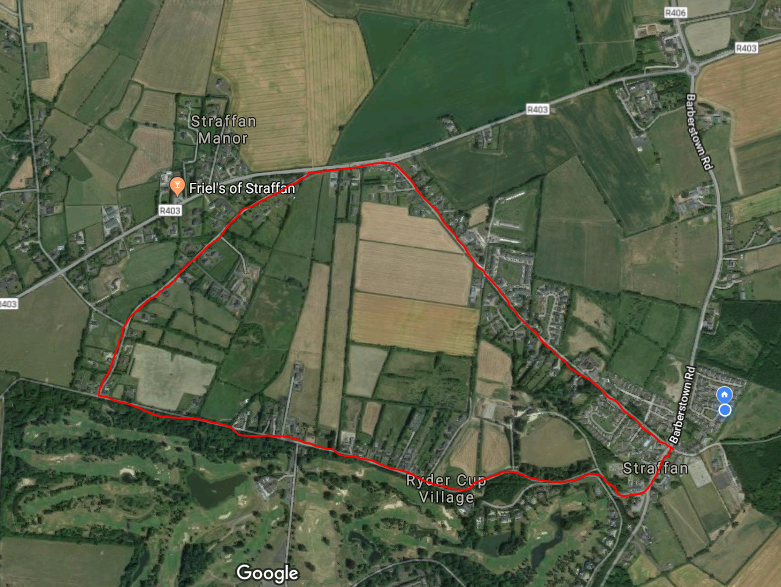 Route Map Above. Route is start at school or beyond (will be wall marked on day) down by hall, right at crossroads, up Boreen Road, first right, follow road and join Clane road for 200m, down onto New Road  (road where you started).  People doing 10k do not cross the finish line having done 1 lap as you haven't finished yet – you have another one to go. Finish at the hall and go in for some well deserved treats.
Registration is still available in: 
Straffan owned Sports shop Sportmaster in Celbridge
Straffan Community Hall on Friday 01 st March at 8:00 pm
Straffan Community Hall on Saturday 2 nd March at 8:00 am to 9:30 am
There's a medal for all paid runners or walkers. These unique, wooden medals were purchased through Techcreate, owned by Straffan Gate resident Matt Eve . See picture in race description.
Race Day Info:
Parking at Church of Ireland, Straffan (opposite Gala)
8:00 – 9:30 Go to the hall to collect your race number
9:15 People doing the 5k go to start point near the school – will be clearly identified on the day
9:15 People doing the 10k to go start point near Cobbs , up past the school  – will be clearly identified on the day
9:30 – Warm up with Mairead , between 2 starting points.
Mairead is a qualified fitness instructor. She does classes in the hall and is a personal trainer also.
Please note : The roads are not closed. 
Please run on the right.
2018 results
Straffan 2018
| Race | Name | Club | Gun | Chip |
| --- | --- | --- | --- | --- |
| Straffan 10k 2018 | Paul Lynch | SLIABH Buidhe Rovers ac | 0:34:17,28 | 0:34:16,28 |
| Straffan 10k 2018 | Conor Burke | None | 0:34:32,77 | 0:34:31,37 |
| Straffan 10k 2018 | N.N. 4660 | | 0:39:20,34 | 0:39:20,34 |
| Straffan 10k 2018 | Keith Wickham | Dunshaughlin AC | 0:41:17,93 | 0:41:17,93 |
| Straffan 10k 2018 | Tommy Guthrie | None | 0:41:30,99 | 0:41:30,99 |
| Straffan 10k 2018 | Tara Johnston | Donadea Running Club | 0:42:16,63 | 0:42:16,63 |
| Straffan 10k 2018 | Conor Lavery | Donadea Running Club | 0:42:31,99 | 0:42:31,99 |
| Straffan 10k 2018 | Tom Lawlor | | 0:43:00,95 | 0:43:00,95 |
| Straffan 10k 2018 | Thomas Freeman | Naas AC | 0:43:17,73 | 0:43:12,33 |
| Straffan 10k 2018 | Helen Delany | | 0:43:41,74 | 0:43:38,82 |
| Straffan 10k 2018 | John Burke | Bray Runners | 0:44:26,25 | 0:44:21,90 |
| Straffan 10k 2018 | Keith Packer | | 0:45:22,53 | 0:45:20,04 |
| Straffan 10k 2018 | N.N. 4657 | | 0:45:30,20 | 0:45:30,20 |
| Straffan 10k 2018 | N.N. 4659 | | 0:45:31,10 | 0:45:31,10 |
| Straffan 10k 2018 | Charles Gallagher | None | 0:46:09,26 | 0:46:03,19 |
| Straffan 10k 2018 | N.N. 4661 | | 0:46:17,00 | 0:46:17,00 |
| Straffan 10k 2018 | Diarmuid Quinn | None | 0:47:09,69 | 0:47:01,38 |
| Straffan 10k 2018 | Niamh Lestrange | None | 0:47:09,82 | 0:47:01,56 |
| Straffan 10k 2018 | Zak Packer | | 0:47:13,90 | 0:47:11,48 |
| Straffan 10k 2018 | Orla Kinsella | | 0:47:50,83 | 0:47:47,16 |
| Straffan 10k 2018 | andrea flynn | | 0:47:50,83 | 0:47:46,84 |
| Straffan 10k 2018 | Deirdre Lacey | Le cheile ac | 0:47:57,97 | 0:47:55,02 |
| Straffan 10k 2018 | Paul Fallon | None | 0:48:19,29 | 0:48:12,90 |
| Straffan 10k 2018 | Andrew Kane | | 0:49:15,97 | 0:49:09,90 |
| Straffan 10k 2018 | Declan Reilly | None | 0:49:41,29 | 0:49:36,90 |
| Straffan 10k 2018 | Cora McCormack | None | 0:52:04,78 | 0:51:57,61 |
| Straffan 10k 2018 | Martin Reilly | None | 0:52:27,77 | 0:52:23,48 |
| Straffan 10k 2018 | David Purdom | | 0:52:30,57 | 0:52:25,34 |
| Straffan 10k 2018 | Bernarnd Kiernan | None | 0:52:31,15 | 0:52:24,56 |
| Straffan 10k 2018 | Sinead Howard | Blackrock AC | 0:54:21,55 | 0:54:15,96 |
| Straffan 10k 2018 | Tracy Griffin | None | 0:55:38,61 | 0:55:34,86 |
| Straffan 10k 2018 | Sinead Martin | None | 0:56:16,56 | 0:56:11,64 |
| Straffan 10k 2018 | Marian Ryan | Grassroots Fitness | 0:56:35,20 | 0:56:30,19 |
| Straffan 10k 2018 | Karen Packer | | 0:57:09,05 | 0:57:05,98 |
| Straffan 10k 2018 | Annemarie Kelly | | 0:58:45,38 | 0:58:40,57 |
| Straffan 10k 2018 | Tom Moran | None | 0:58:58,38 | 0:58:47,85 |
| Straffan 10k 2018 | Deirdre Corcoran | | 0:59:10,28 | 0:59:05,84 |
| Straffan 10k 2018 | James Christian | Brendan's Running Club | 0:59:25,79 | 0:59:19,90 |
| Straffan 10k 2018 | Seamus Eoorley | None | 0:59:43,44 | 0:59:33,87 |
| Straffan 10k 2018 | Arlene Higgins | Celbridge AC | 1:01:01,84 | 1:00:56,83 |
| Straffan 10k 2018 | Ciara Kinsella | None | 1:01:22,34 | 1:01:17,34 |
| Straffan 10k 2018 | Eveyn Lambe | | 1:03:18,09 | 1:03:11,10 |
| Straffan 10k 2018 | Anne Marie Hughes | | 1:04:41,63 | 1:04:37,98 |
| Straffan 10k 2018 | Philip Reilly | | 1:05:15,94 | 1:05:09,41 |
| Straffan 10k 2018 | Carmel Allen | | 1:07:12,18 | 1:07:10,14 |
| Straffan 10k 2018 | Bernard Allen | | 1:07:13,56 | 1:07:11,70 |
| Straffan 10k 2018 | Kate Timpson | Brendan's Running Club | 1:08:15,86 | 1:08:10,37 |
| Straffan 5k 2018 | Liam King | Celbridge AC | 0:18:55,18 | 0:18:55,18 |
| Straffan 5k 2018 | N.N. 4656 | | 0:22:03,41 | 0:22:02,07 |
| Straffan 5k 2018 | Sam Friel | | 0:22:36,25 | 0:22:35,52 |
| Straffan 5k 2018 | John Delaney | | 0:23:27,62 | 0:23:20,38 |
| Straffan 5k 2018 | Chris Proby | | 0:24:44,92 | 0:24:38,92 |
| Straffan 5k 2018 | Brian Maguire | None | 0:25:43,83 | 0:25:33,17 |
| Straffan 5k 2018 | Aimee Maguire | None | 0:25:45,03 | 0:25:35,28 |
| Straffan 5k 2018 | N.N. 4602 | | 0:26:34,79 | 0:26:25,63 |
| Straffan 5k 2018 | Brian Cooper | None | 0:27:24,75 | 0:27:17,58 |
| Straffan 5k 2018 | Laura McCusker | | 0:28:13,35 | 0:28:03,98 |
| Straffan 5k 2018 | James Fallon | | 0:28:20,60 | 0:28:19,20 |
| Straffan 5k 2018 | Helen Alexander | | 0:28:49,57 | 0:28:48,42 |
| Straffan 5k 2018 | Ollie McCartan | None | 0:29:06,60 | 0:28:48,94 |
| Straffan 5k 2018 | Pat English | | 0:29:08,94 | 0:28:51,50 |
| Straffan 5k 2018 | Declan Reilly | None | 0:29:18,75 | 0:29:12,37 |
| Straffan 5k 2018 | Marina Byrne | | 0:31:20,24 | 0:31:12,70 |
| Straffan 5k 2018 | Iris McCartan | None | 0:31:21,07 | 0:31:15,07 |
| Straffan 5k 2018 | Orsi Cseh | | 0:31:57,37 | 0:31:45,04 |
| Straffan 5k 2018 | John Otoole | | 0:31:59,21 | 0:31:46,30 |
| Straffan 5k 2018 | Sophie Otoole | | 0:32:00,95 | 0:31:49,98 |
| Straffan 5k 2018 | Grace O toole | None | 0:32:01,37 | 0:31:50,23 |
| Straffan 5k 2018 | Tanya Moeller | None | 0:32:31,77 | 0:32:19,75 |
| Straffan 5k 2018 | Selena Donovan | Donadea Running Club | 0:32:34,05 | 0:32:16,17 |
| Straffan 5k 2018 | Justin Donovan | None | 0:32:35,46 | 0:32:17,64 |
| Straffan 5k 2018 | Kathleen Hussey | None | 0:32:43,09 | 0:32:33,01 |
| Straffan 5k 2018 | Paraic Russell | None | 0:33:19,12 | 0:33:13,23 |
| Straffan 5k 2018 | Eimear Fallon | None | 0:33:22,06 | 0:33:15,68 |
| Straffan 5k 2018 | Shona Maguire | None | 0:33:22,25 | 0:33:17,70 |
| Straffan 5k 2018 | Catherine Cooke | | 0:33:36,98 | 0:33:32,58 |
| Straffan 5k 2018 | Anne Treanor | | 0:35:15,92 | 0:35:11,64 |
| Straffan 5k 2018 | Hugo English | | 0:35:19,43 | 0:35:17,60 |
| Straffan 5k 2018 | Orla Collins | None | 0:35:19,72 | 0:35:11,41 |
| Straffan 5k 2018 | Killian Collins | None | 0:35:20,15 | 0:35:12,03 |
| Straffan 5k 2018 | Daniela Bergsmann | None | 0:35:24,28 | 0:35:12,45 |
| Straffan 5k 2018 | Lawrence Fox | | 0:35:30,81 | 0:35:21,09 |
| Straffan 5k 2018 | Ciara Maguire | None | 0:35:33,00 | 0:35:22,47 |
| Straffan 5k 2018 | Nicole Maguire | None | 0:35:33,99 | 0:35:22,73 |
| Straffan 5k 2018 | Petra Otoole | | 0:35:47,19 | 0:35:36,05 |
| Straffan 5k 2018 | June Lanigan | | 0:35:52,63 | 0:35:32,23 |
| Straffan 5k 2018 | June Lanigan | | 0:35:53,73 | 0:35:33,79 |
| Straffan 5k 2018 | June Lanigan | | 0:35:55,30 | 0:35:32,10 |
| Straffan 5k 2018 | Jenny Friel | | 0:37:33,17 | 0:37:26,80 |
| Straffan 5k 2018 | LUCY Keville | None | 0:37:33,57 | 0:37:27,11 |
| Straffan 5k 2018 | Helen Rapple | Brendan's Running Club | 0:37:46,73 | 0:37:40,26 |
| Straffan 5k 2018 | Gavin Walsh | None | 0:38:02,41 | 0:37:47,57 |
| Straffan 5k 2018 | Mae Donovan | None | 0:38:04,29 | 0:37:50,31 |
| Straffan 5k 2018 | T J Molloy | None | 0:39:40,35 | 0:39:34,65 |
| Straffan 5k 2018 | Daire Costello | None | 0:39:41,05 | 0:39:40,32 |
| Straffan 5k 2018 | Daire Costello | None | 0:39:41,17 | 0:39:39,46 |
| Straffan 5k 2018 | Zoe Hehir | None | 0:39:56,16 | 0:39:42,75 |
| Straffan 5k 2018 | Anabelle Haughney | None | 0:40:07,94 | 0:39:47,55 |
| Straffan 5k 2018 | Declan Reilly | None | 0:40:14,80 | 0:39:59,57 |
| Straffan 5k 2018 | Maurice O neil | None | 0:40:40,71 | 0:22:07,12 |
| Straffan 5k 2018 | Amy Packer | | 0:42:33,18 | 0:42:24,26 |
| Straffan 5k 2018 | Ann Friel | | 0:42:38,61 | 0:42:26,84 |
| Straffan 5k 2018 | Maurice Friel | | 0:42:40,09 | 0:42:28,44 |
| Straffan 5k 2018 | patrick ryan | None | 0:42:46,63 | 0:42:32,58 |
| Straffan 5k 2018 | patrick ryan | None | 0:42:47,77 | 0:42:33,93 |
| Straffan 5k 2018 | Lily Mulcair | None | 0:42:56,37 | 0:42:49,01 |
| Straffan 5k 2018 | Brian Mulcair | None | 0:42:56,45 | 0:42:49,20 |
| Straffan 5k 2018 | Seamus Moneley | None | 0:43:33,93 | 0:43:15,35 |
| Straffan 5k 2018 | Seamus Moneley | None | 0:43:34,04 | 0:43:14,99 |
| Straffan 5k 2018 | Seamus Moneley | None | 0:43:34,32 | 0:43:14,16 |
| Straffan 5k 2018 | Seamus Moneley | None | 0:43:35,07 | 0:43:16,61 |
| Straffan 5k 2018 | Elizabeth Murphy | | 0:44:30,71 | 0:44:19,27 |
| Straffan 5k 2018 | Mae Donovan | None | 0:44:58,06 | 0:44:51,25 |
| Straffan 5k 2018 | James Fallon | None | 0:45:01,96 | 0:44:55,15 |
| Straffan 5k 2018 | Grace O toole | None | 0:46:49,80 | 0:46:42,35 |
| Straffan 5k 2018 | Daire Costello | None | 0:46:55,70 | 0:46:48,25 |
| Straffan 5k 2018 | Harvey Skelly | Celbridge AC | 0:48:37,39 | 0:48:23,54 |
| Straffan 5k 2018 | Max Meath | Celbridge AC | 0:48:40,25 | 0:48:26,35 |
| Straffan 5k 2018 | Gemma Skelly | Celbridge AC | 0:48:43,25 | 0:48:29,67 |
| Straffan 5k 2018 | Suzanne Kane | | 0:48:43,45 | 0:48:29,60 |
| Straffan 5k 2018 | Sarah Bourke | | 0:50:26,65 | 0:50:16,70 |
| Straffan 5k 2018 | Denise Hayes | | 0:50:26,96 | 0:50:17,24 |
| Straffan 5k 2018 | Sarah Bourke | | 0:50:27,41 | 0:50:17,90 |
| Straffan 5k 2018 | Georgie Okeeffe | None | 0:50:33,66 | 0:50:18,05 |
| Straffan 5k 2018 | Daire Costello | None | 0:50:34,97 | 0:50:32,82 |
| Straffan 5k 2018 | Da Costello | None | 0:50:41,84 | 0:50:26,37 |
| Straffan 5k 2018 | Anne-marie Haughney | None | 0:51:13,45 | 0:51:13,45 |
| Straffan 5k 2018 | Shane Haughney | None | 0:51:15,28 | 0:50:51,74 |
| Straffan 5k 2018 | Anabelle Haughney | None | 0:51:15,83 | 0:50:53,87 |
| Straffan 5k 2018 | Georgie Okeeffe | None | 0:51:22,48 | 0:51:06,82 |
| Straffan 5k 2018 | Mairead Mangan | | 0:51:23,70 | 0:51:23,70 |
| Straffan 5k 2018 | Sarah Bourke | | 0:51:23,82 | 0:51:15,21 |
| Straffan 5k 2018 | Zara Carberry | None | 0:51:26,47 | 0:51:13,17 |
| Straffan 5k 2018 | Brian Keating | None | 0:51:41,94 | 0:51:21,79 |
| Straffan 5k 2018 | Zara Carberry | None | 0:51:42,70 | 0:51:30,08 |
| Straffan 5k 2018 | Rose Okeefe | None | 0:51:45,79 | 0:51:21,44 |
| Straffan 5k 2018 | Rose Okeefe | None | 0:51:45,91 | 0:51:20,84 |
| Straffan 5k 2018 | Rose Okeefe | None | 0:51:45,91 | 0:51:21,34 |
| Straffan 5k 2018 | Kate English | | 0:51:51,08 | 0:51:43,02 |
| Straffan 5k 2018 | patrick ryan | None | 0:56:30,25 | 0:56:16,00 |
| Straffan 5k 2018 | patrick ryan | None | 0:56:34,29 | 0:56:18,96 |
| Straffan 5k 2018 | patrick ryan | None | 0:56:41,04 | 0:56:25,29 |
| Race | Name | Club | Gun | Chip |
| --- | --- | --- | --- | --- |
| Straffan 5k 2018 | Liam King | Celbridge AC | 0:18:55,18 | 0:18:55,18 |
| Straffan 5k 2018 | N.N. 4656 | | 0:22:03,41 | 0:22:02,07 |
| Straffan 5k 2018 | Sam Friel | | 0:22:36,25 | 0:22:35,52 |
| Straffan 5k 2018 | John Delaney | | 0:23:27,62 | 0:23:20,38 |
| Straffan 5k 2018 | Chris Proby | | 0:24:44,92 | 0:24:38,92 |
| Straffan 5k 2018 | Brian Maguire | None | 0:25:43,83 | 0:25:33,17 |
| Straffan 5k 2018 | Aimee Maguire | None | 0:25:45,03 | 0:25:35,28 |
| Straffan 5k 2018 | N.N. 4602 | | 0:26:34,79 | 0:26:25,63 |
| Straffan 5k 2018 | Brian Cooper | None | 0:27:24,75 | 0:27:17,58 |
| Straffan 5k 2018 | Laura McCusker | | 0:28:13,35 | 0:28:03,98 |
| Straffan 5k 2018 | James Fallon | | 0:28:20,60 | 0:28:19,20 |
| Straffan 5k 2018 | Helen Alexander | | 0:28:49,57 | 0:28:48,42 |
| Straffan 5k 2018 | Ollie McCartan | None | 0:29:06,60 | 0:28:48,94 |
| Straffan 5k 2018 | Pat English | | 0:29:08,94 | 0:28:51,50 |
| Straffan 5k 2018 | Declan Reilly | None | 0:29:18,75 | 0:29:12,37 |
| Straffan 5k 2018 | Marina Byrne | | 0:31:20,24 | 0:31:12,70 |
| Straffan 5k 2018 | Iris McCartan | None | 0:31:21,07 | 0:31:15,07 |
| Straffan 5k 2018 | Orsi Cseh | | 0:31:57,37 | 0:31:45,04 |
| Straffan 5k 2018 | John Otoole | | 0:31:59,21 | 0:31:46,30 |
| Straffan 5k 2018 | Sophie Otoole | | 0:32:00,95 | 0:31:49,98 |
| Straffan 5k 2018 | Grace O toole | None | 0:32:01,37 | 0:31:50,23 |
| Straffan 5k 2018 | Tanya Moeller | None | 0:32:31,77 | 0:32:19,75 |
| Straffan 5k 2018 | Selena Donovan | Donadea Running Club | 0:32:34,05 | 0:32:16,17 |
| Straffan 5k 2018 | Justin Donovan | None | 0:32:35,46 | 0:32:17,64 |
| Straffan 5k 2018 | Kathleen Hussey | None | 0:32:43,09 | 0:32:33,01 |
| Straffan 5k 2018 | Paraic Russell | None | 0:33:19,12 | 0:33:13,23 |
| Straffan 5k 2018 | Eimear Fallon | None | 0:33:22,06 | 0:33:15,68 |
| Straffan 5k 2018 | Shona Maguire | None | 0:33:22,25 | 0:33:17,70 |
| Straffan 5k 2018 | Catherine Cooke | | 0:33:36,98 | 0:33:32,58 |
| Straffan 5k 2018 | Anne Treanor | | 0:35:15,92 | 0:35:11,64 |
| Straffan 5k 2018 | Hugo English | | 0:35:19,43 | 0:35:17,60 |
| Straffan 5k 2018 | Orla Collins | None | 0:35:19,72 | 0:35:11,41 |
| Straffan 5k 2018 | Killian Collins | None | 0:35:20,15 | 0:35:12,03 |
| Straffan 5k 2018 | Daniela Bergsmann | None | 0:35:24,28 | 0:35:12,45 |
| Straffan 5k 2018 | Lawrence Fox | | 0:35:30,81 | 0:35:21,09 |
| Straffan 5k 2018 | Ciara Maguire | None | 0:35:33,00 | 0:35:22,47 |
| Straffan 5k 2018 | Nicole Maguire | None | 0:35:33,99 | 0:35:22,73 |
| Straffan 5k 2018 | Petra Otoole | | 0:35:47,19 | 0:35:36,05 |
| Straffan 5k 2018 | June Lanigan | | 0:35:52,63 | 0:35:32,23 |
| Straffan 5k 2018 | June Lanigan | | 0:35:53,73 | 0:35:33,79 |
| Straffan 5k 2018 | June Lanigan | | 0:35:55,30 | 0:35:32,10 |
| Straffan 5k 2018 | Jenny Friel | | 0:37:33,17 | 0:37:26,80 |
| Straffan 5k 2018 | LUCY Keville | None | 0:37:33,57 | 0:37:27,11 |
| Straffan 5k 2018 | Helen Rapple | Brendan's Running Club | 0:37:46,73 | 0:37:40,26 |
| Straffan 5k 2018 | Gavin Walsh | None | 0:38:02,41 | 0:37:47,57 |
| Straffan 5k 2018 | Mae Donovan | None | 0:38:04,29 | 0:37:50,31 |
| Straffan 5k 2018 | T J Molloy | None | 0:39:40,35 | 0:39:34,65 |
| Straffan 5k 2018 | Daire Costello | None | 0:39:41,05 | 0:39:40,32 |
| Straffan 5k 2018 | Daire Costello | None | 0:39:41,17 | 0:39:39,46 |
| Straffan 5k 2018 | Zoe Hehir | None | 0:39:56,16 | 0:39:42,75 |
| Straffan 5k 2018 | Anabelle Haughney | None | 0:40:07,94 | 0:39:47,55 |
| Straffan 5k 2018 | Declan Reilly | None | 0:40:14,80 | 0:39:59,57 |
| Straffan 5k 2018 | Maurice O neil | None | 0:40:40,71 | 0:22:07,12 |
| Straffan 5k 2018 | Amy Packer | | 0:42:33,18 | 0:42:24,26 |
| Straffan 5k 2018 | Ann Friel | | 0:42:38,61 | 0:42:26,84 |
| Straffan 5k 2018 | Maurice Friel | | 0:42:40,09 | 0:42:28,44 |
| Straffan 5k 2018 | patrick ryan | None | 0:42:46,63 | 0:42:32,58 |
| Straffan 5k 2018 | patrick ryan | None | 0:42:47,77 | 0:42:33,93 |
| Straffan 5k 2018 | Lily Mulcair | None | 0:42:56,37 | 0:42:49,01 |
| Straffan 5k 2018 | Brian Mulcair | None | 0:42:56,45 | 0:42:49,20 |
| Straffan 5k 2018 | Seamus Moneley | None | 0:43:33,93 | 0:43:15,35 |
| Straffan 5k 2018 | Seamus Moneley | None | 0:43:34,04 | 0:43:14,99 |
| Straffan 5k 2018 | Seamus Moneley | None | 0:43:34,32 | 0:43:14,16 |
| Straffan 5k 2018 | Seamus Moneley | None | 0:43:35,07 | 0:43:16,61 |
| Straffan 5k 2018 | Elizabeth Murphy | | 0:44:30,71 | 0:44:19,27 |
| Straffan 5k 2018 | Mae Donovan | None | 0:44:58,06 | 0:44:51,25 |
| Straffan 5k 2018 | James Fallon | None | 0:45:01,96 | 0:44:55,15 |
| Straffan 5k 2018 | Grace O toole | None | 0:46:49,80 | 0:46:42,35 |
| Straffan 5k 2018 | Daire Costello | None | 0:46:55,70 | 0:46:48,25 |
| Straffan 5k 2018 | Harvey Skelly | Celbridge AC | 0:48:37,39 | 0:48:23,54 |
| Straffan 5k 2018 | Max Meath | Celbridge AC | 0:48:40,25 | 0:48:26,35 |
| Straffan 5k 2018 | Gemma Skelly | Celbridge AC | 0:48:43,25 | 0:48:29,67 |
| Straffan 5k 2018 | Suzanne Kane | | 0:48:43,45 | 0:48:29,60 |
| Straffan 5k 2018 | Sarah Bourke | | 0:50:26,65 | 0:50:16,70 |
| Straffan 5k 2018 | Denise Hayes | | 0:50:26,96 | 0:50:17,24 |
| Straffan 5k 2018 | Sarah Bourke | | 0:50:27,41 | 0:50:17,90 |
| Straffan 5k 2018 | Georgie Okeeffe | None | 0:50:33,66 | 0:50:18,05 |
| Straffan 5k 2018 | Daire Costello | None | 0:50:34,97 | 0:50:32,82 |
| Straffan 5k 2018 | Da Costello | None | 0:50:41,84 | 0:50:26,37 |
| Straffan 5k 2018 | Anne-marie Haughney | None | 0:51:13,45 | 0:51:13,45 |
| Straffan 5k 2018 | Shane Haughney | None | 0:51:15,28 | 0:50:51,74 |
| Straffan 5k 2018 | Anabelle Haughney | None | 0:51:15,83 | 0:50:53,87 |
| Straffan 5k 2018 | Georgie Okeeffe | None | 0:51:22,48 | 0:51:06,82 |
| Straffan 5k 2018 | Mairead Mangan | | 0:51:23,70 | 0:51:23,70 |
| Straffan 5k 2018 | Sarah Bourke | | 0:51:23,82 | 0:51:15,21 |
| Straffan 5k 2018 | Zara Carberry | None | 0:51:26,47 | 0:51:13,17 |
| Straffan 5k 2018 | Brian Keating | None | 0:51:41,94 | 0:51:21,79 |
| Straffan 5k 2018 | Zara Carberry | None | 0:51:42,70 | 0:51:30,08 |
| Straffan 5k 2018 | Rose Okeefe | None | 0:51:45,79 | 0:51:21,44 |
| Straffan 5k 2018 | Rose Okeefe | None | 0:51:45,91 | 0:51:20,84 |
| Straffan 5k 2018 | Rose Okeefe | None | 0:51:45,91 | 0:51:21,34 |
| Straffan 5k 2018 | Kate English | | 0:51:51,08 | 0:51:43,02 |
| Straffan 5k 2018 | patrick ryan | None | 0:56:30,25 | 0:56:16,00 |
| Straffan 5k 2018 | patrick ryan | None | 0:56:34,29 | 0:56:18,96 |
| Straffan 5k 2018 | patrick ryan | None | 0:56:41,04 | 0:56:25,29 |