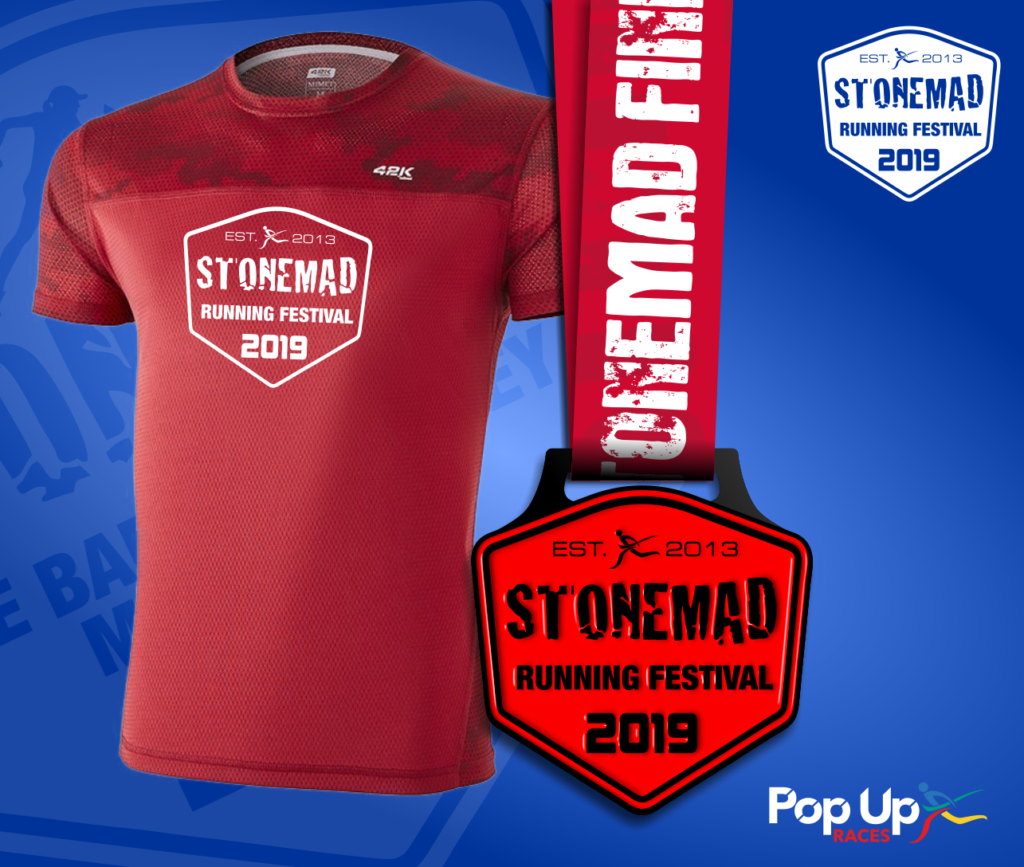 Event Details
Location

Kilkenny

Race Type

10 Mile Run, 10k Run, Half Marathon, Marathon, Ultra Marathon

Date

10-08-2019

Time

08.30
Enter Now
What is Stonemad?
It is a marathon event, with 5 different race distances: Ultra 60km, Marathon (well 43km!),  Half-Marathon 10 mile and 10k.  The route meanders along the flat and scenic banks of the River Barrow, starting and finishing in the picturesque town of Graiguenamanagh.
Why is it called Stonemad?
StoneMad was originally a 2-Day event that took in place along the corridor of the River Barrow and up over the mountain path of Mount Leinster. The event derived its name from the nine historical stones at the top of Mount Leinster.
Online registration available only. Early Bird rates available to 30th April 2019.
Start Times:
There are different start times for this event depending on distance:
Ultra Marathon – 8:30am start
Full Marathon – 9:30am start
Half Marathon – 11:30am start
10 Mile  & 10k – 12 Noon Start
Other Information
All race packs (race numbers & tees) will be posted to entrants in advance of the race.
Medal for all finishers.
Food and showers at the finish.
Start times:
Please note the different start times for this event:
Ultra Marathon – 8:30am start
Full Marathon – 9:30am start
Half Marathon – 11:30am start
10 Mile  & 10k – 12 Noon Start
Is it all trail?
The route is on riverside track, soft trail and short grass, with short paved sections at road crossings.
Do I need trail shoes?
Either road or trail running shoes will be fine, depending on your personal preference.
Are there water stations?
There are water stations on average every 10km along the route where you can top up your water supplies, and enjoy other drinks and snacks to boost the energy levels! Your race number will be checked at each aid station.
What do I have to carry on the day?
Suitable Running/Walking Footwear. Please refer to the weather when considering underfoot conditions/running shoes.
Hydration system (bottle or pack).*
Minimum 400ml fluids and 2 energy bars or equivalent.*
Fully charged phone (water-proofed, with emergency Race HQ number saved).
Race number visible at all times.
A lightweight, waterproof piece of warm clothing (recommended).
Please note, subject to local weather conditions and Met Eireann forecasts, we may require participants to carry additional items of clothing including; gloves, hat and long tights (waterproofed).
*more applicable to longer distance races.
Can I walk or jog?
Yes! Walkers, joggers and runners are all welcome!
Am I ready for the ultra?
Do you have a beard?! Then of course you're ready! For the rest of us average folk, if you have completed a marathon, are regularly doing long runs in training and can do this on back-to-back days, then you are probably ready! Our advice for your approach to your first ultra is to pace well, take walking breaks as needed, eat before you're hungry, and drink to your thirst. There are many online training plans available which can be a helpful guide to increasing both physical and mental endurance. Best of luck! The StoneMad crew will be there to support you along the way and cheer you across that finish line!
Are there toilets along the course?
The route passes through many small towns where toilet facilities can be found if needed.
Is there food available at the finish line?
Yes. There will be food at the scouts hall beside the finish line, take your time soaking up the post race atmosphere!
Will I get a medal and T-shirt?
Yes, both!
Where can I park my car?
There will be parking in a field across the river directly opposite the scouts hall in Graiguenamangh. We recommend car-pooling where possible.
Is the race timed?
Yes. All results will be published online after the race on Popupraces site.
I need to get in touch - what are the contact details for the race organizer?
Any queries can be sent to info@popupraces.ie