Back To Race List
UPDATE – GROUP DISCOUNT AVAILABLE, Select 10+ Adult  tickets for a 10% discount, and 20+ for a 20% discount
The Shining Light 5k sponsored by The Talbot Carlow, is a 5k in Aid of Crumlin Children's hospital.
Our location is Rathwood, Co.Carlow, a beautiful scenic route for all the family.
It is suitable for walkers, runners, joggers and strollers.
Our aim is to have as much fun as possible and raise money for Crumlin Children's Hospital.
Plenty for the kids including face painting and Aidan's kids fun run €2.00 per child (medal included), start time 10.30.
We will provide
Warm up by 'Moves with Michaela',
Face painting by Ala,
Water stations,
Spot prizes,
Chip timed event,
Followed by a well deserved Tea or Coffee after the race.
Registration will take place at Rathwood from 9.30am on raceday.
Sponsorship cards available, raise €100 per card which allows 1 person to free entry into the 5k.
For anyone who can't make the event in person but still would like to support it, why not select the Virtual Run Option – run anywhere, anytime at your own pace. Send details of your completed race to the organiser and they'll send out your medal!
Please remember all funds raised goes to Crumlin Children's hospital. Every child who goes through their doors deserves the best treatment they can get. We all have a special place in our hearts for Crumlin and their amazing staff.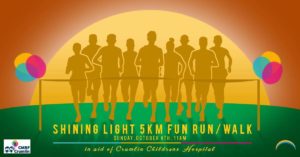 Race day information from the organisers is below.
On the day registation & number collection will be available from 9.00am in the events courtyard in Rathwood Home & Garden (go in the front door, turn right and continue straight - will be signposted). 
On the day registration is still possible for this event so please encourage your friends & family to join you!
Start time is 11.00am sharp.
Parking is available in the grounds of Rathwood Home & Garden, however as is is a popular race we would encourage car pooling where possible.  
Rathwood Home & Garden have generously agreed to a free regular tea/coffee for everyone who shows their race number after the event in The Merry Tree.  
Thank you to our sponsors The Talbot Hotel & Rathwood Home & Garden and a HUGE THANK YOU to you for supporting this event and Crumlin Children's Hospital. We wish you all the very best of luck in your run.