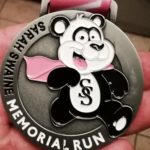 Sarah Swaine, a beautiful young lady, lost her life at just 19 years of age on 3rd of January 2016 after getting cancer twice in her young life.
Sarah had just qualified as a beautician and had a massive love for music and a passion for makeup, loved the scouts for which she was a member of and a smile as bright as her favourite colour yellow.
Aoibheann's Pink Tie was with Sarah every step of the way and her family are repaying them for everything they did for they very much loved Sarah.
Following on from their annual run on Sunday 7th January, the family are hoping to continue their fundraising efforts by allowing virtual completion of this event.