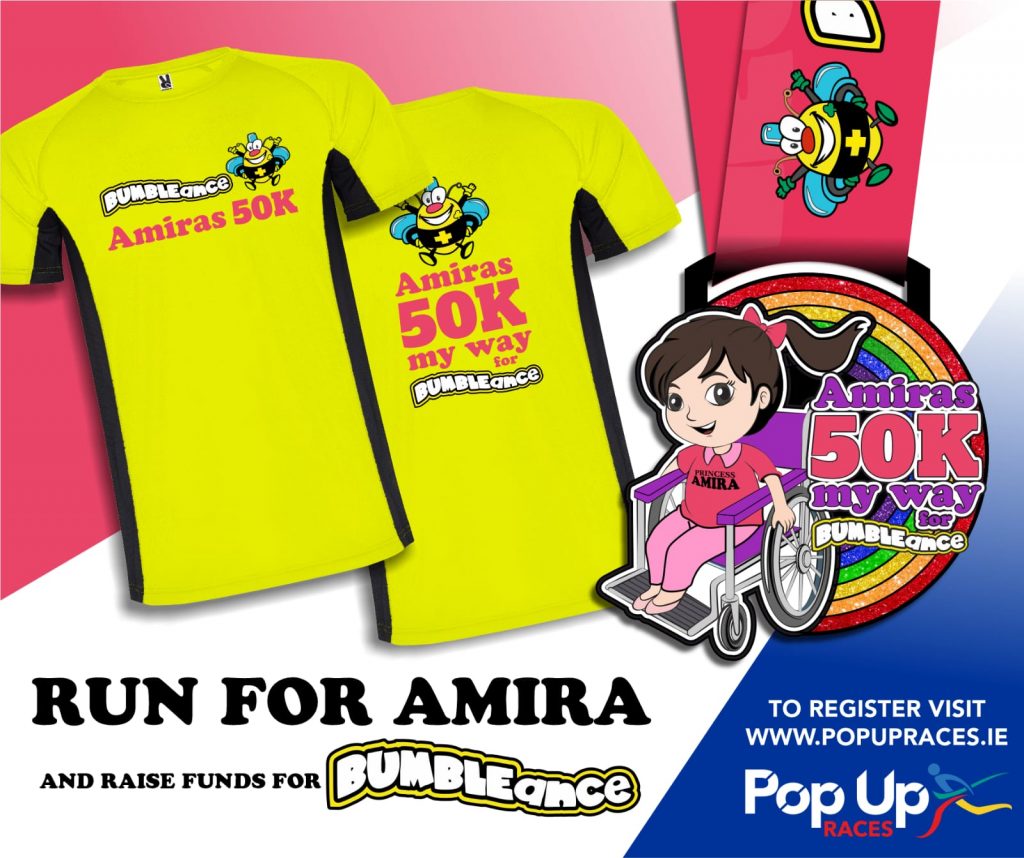 Run, walk, treadmill or cycle challenge or any other form of exercise where you can record your kilometers until you hit your target.
Save your evidence on your running watch, fitbit etc until you hit your target and send in the evidence at the end of the challenge to our Facebook page Bling Hunters group or to this email: Irishblinghunters@gmail.com To claim your medal and completion certificate
Support this event from anywhere in the world in your own time at your own pace and its that simple.
If you don't use a device to record your kilometers then you can download our tracker sheet to record with pen and paper and send a screenshot at the end of the challenge..
All proceeds going to Bumbleance , the Children's National Ambulance 🚑 service
OPTIONAL FUNDRAISING: https://www.idonate.ie/RunforAmira if you would like to set up an additional fundraising page you can do so here. The funds will keep the wheels turning at Bumbleance
For more information or to request sponsorship cards contact Wayne on the bling hunters Facebook page or call
0862005652
Irishblinghunters@gmail.com
MEDALS WILL SHIP AT THE END OF FEBRUARY
ABOUT AMIRA:
Hi my name is Amira well princess Amira to many 😄 when I was 14 months old I was a passenger in a fatal car accident which left me in an induced coma for some time I suffered a traumatic brain injury and a severed spinal cord from the t-2 so I'm left paralysed for life from the neck down.
I was 20 months in hospital continuously. I suffered 5 cardiac arrests during this time and finally got fitted with my pacemaker last March 2019 so my heart is ticking away nicely ❤️ without that I would not be here… During my time I suffered immensely and no words could describe how it all felt on august the 16th 2019 I was fitted with a tracheostomy and that took my ability to speak so I had to learn again… my family never gave up on me and got me decannulated in may 2020 and I could breathe on my own have freedom without all the tubes and ventilator.. my family were talking a lot about going home to me and showing me videos of our animals and home and then finally on June 15th 2020 I was taken home in an ambulance called BUMBLEance with two great ambulance drivers and I was waving goodbye to everyone at hospital they were all singing baby shark and waving goodbye to me and my mammy.
I had a little nap on the way then we got to my home in Carlow and there was people everywhere to welcome me home the Garda gave us a special escort home the local fire brigade was there Paul ward (paulies bootcamp) and Fergal Doyle was running in front of the BUMBLEance a very special escort home indeed music was playing everyone was clapping and crying to see me home. My big brother rhys was The lead team on his bycycle. I'll never forget that special day I was home like a queen bee in my bedroom and it felt like I had never left at all Now I'm 3 and I am doing a fundraiser 50 k My WAY to raise vital funds for the BUMBLEance this service is amazing and made my trip home very comfortable and I will need this service for many years to come to travel back and forth safely to hospital appointments etc so I'm up for the challenge so I'm asking everyone to come join and help out any way you can at all I'll be zooming around Ballinabranna in my wheelchair reaching my 50 k at 3 years old…what an achievement that will be to me a wheelchair does not make me any different to anyone else …believe in yourself and when u see the word disability don't feel down Focus on the word ability and turn that frown upside down 😃😃😃😃
Charity Partner
BUMBLEance, the Children's National Ambulance Service, was launched in September 2013 and is owned by the Saoirse Foundation. It is the world's first full interactive, state-of-the-art, children's ambulance service.
BUMBLEance provides a national service for critically and seriously ill children in Ireland who require transportation from their home, to and from, paediatric hospitals, hospices, national treatment centres and respite care facilities nationwide. 
Working in partnership with the National Ambulance Service (NAS), BUMBLEance provides the highest standards in professional medical care together with a top-of-the-range entertainment facility specifically designed and tailored for children.
BUMBLEance was created by parents who understand the struggle of caring and transporting a sick child. Our aim is to distract, comfort and entertain Ireland's youngest patients as they travel to and from treatment centres nationwide  and to ensure the smoothest and safest journey possible, for both carer and patient, from home to destination.