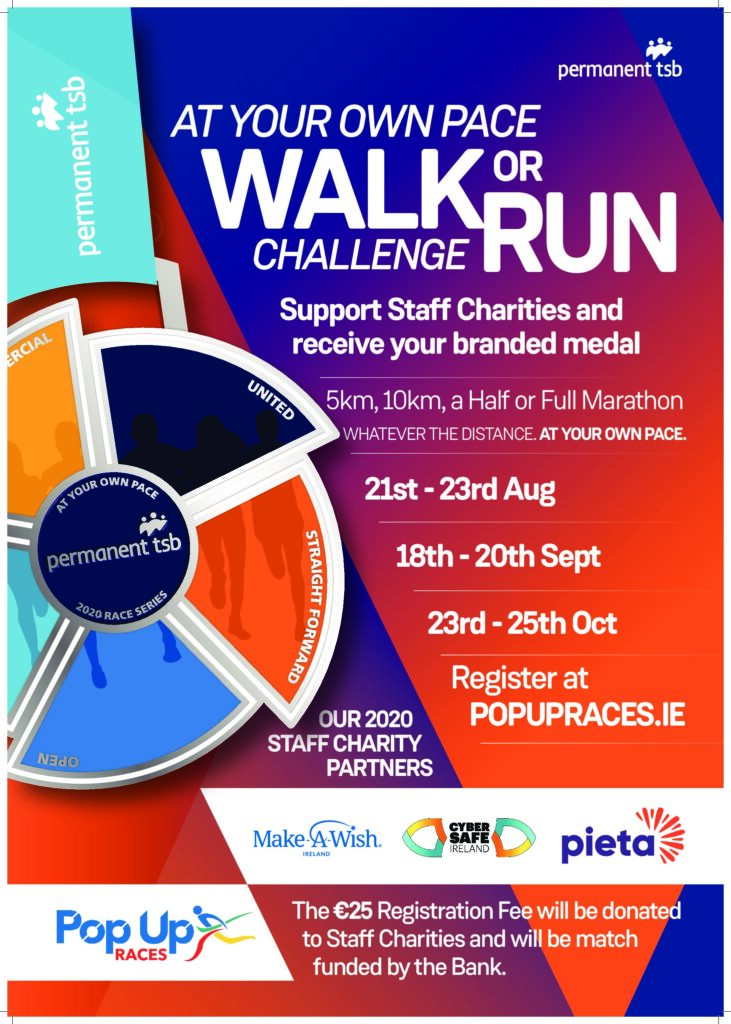 The Permanent TSB Wellbeing Committee is proud to have teamed up with Pop Up Races to launch the 'At Your Own Pace' Race Series – a multi distance race series taking place from August through to October. The Series is designed to help support you in meeting your own personal and wellbeing goals and is aimed for all levels of ability, whether you enjoy walking, are a first time runner or a more experienced distance runner, anyone can take part in this virtual challenge!
The 'At Your Own Pace' Race Series is an event that the Bank is proud to take on in support of our 2020 Staff Charity Partners – Make-A-Wish Ireland, Pieta House and CybersafeIreland. All money raised through registration will be match funded by the Bank in an effort to saupport the work of these incredible charities at a time when they need it most.
How It Works
There are three official race weekends. During each weekend, participants will have the option to complete a distance of their choice (5km, 10km, 21km or 42km) via walking or running. Over the course of the weekend, participants will complete the distance they choose and will track their walk/run using a mobile tracking app (for example, Strava or Map My Run). These tracking apps can be downloaded to your mobile phone. Participants then submit the evidence of their walk/run to Pop Up Races via the Pop Up Races mobile app. All times will be published on Permanent TSB's 'At Your Own Pace' Leader Board.
The Dates
Weekend 1 – August 21st – 23rd

Complete 5km, 10km, 21km (half marathon) or 42 km (Marathon)
Weekend 2 – September 18th – 20th

Complete 5km, 10km, 21km (half marathon) or 42 km (Marathon)
Weekend 3 – October 23rd – 25th

Complete 5km, 10km, 21km (half marathon) or 42 km (Marathon)
The registration fee is €25 to participate across the three weekends and includes delivery of your custom made Permanent TSB medal at the end of October. You can view the medal here.
Final results will be published on October 26th.
Official race medals will be posted out to all participants the week commencing October 26th.
Downloading The Pop Up Races App And Submitting Your Times
You can Download the Pop Up Races mobile app and submit your results via the 'Virtual Results' tab on the Main Menu.
Apple: https://itunes.apple.com/ie/app/popup-races/id1253083878?mt=8
Android: https://play.google.com/store/apps/details?id=com.graphedia.popupraces&hl=en
Everyone is welcome to join us on our first virtual Permanent TSB Race Series, including your family and friends, so please do encourage them to register.
Wishing all of our participants the very best of luck.
The Permanent TSB Wellbeing Committee