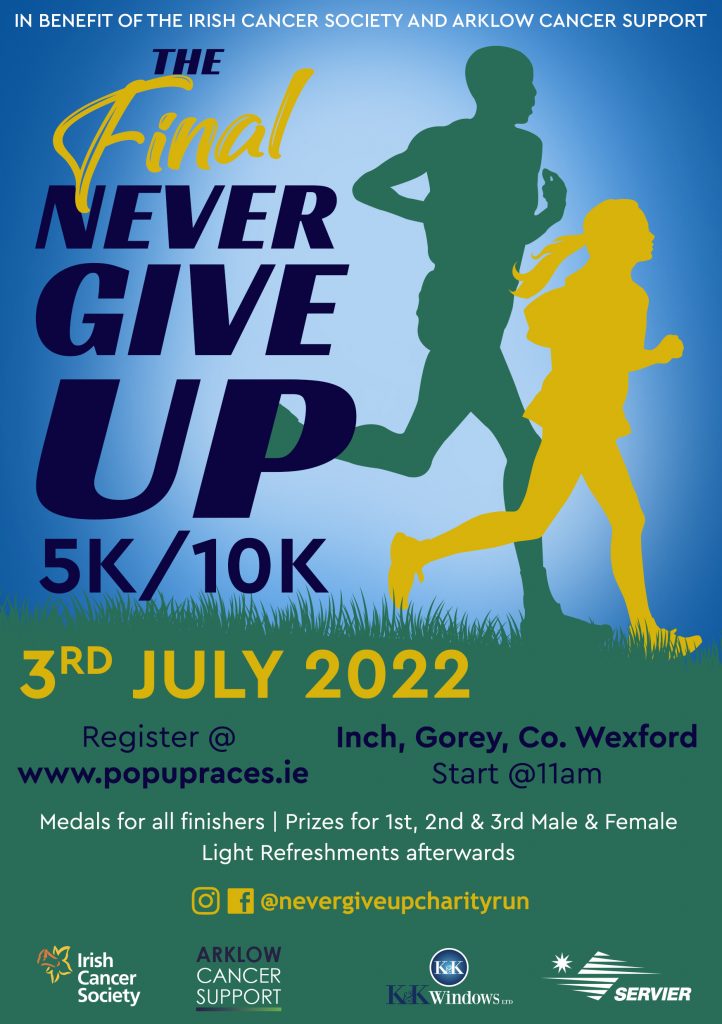 Event Details
Location

Wexford

Race Type

Real Events, 10k Run, 5k Run, Virtual

Date

03-07-2022

Time

11:00
Enter Now
The 2022 Never Give Up 5k/10k Charity Run will be held on Sunday July 3rd in Inch, Gorey, Co. Wexford Y25 RX07, and all proceeds will be split between Arklow Cancer Support and the Irish Cancer Society.
This year I will be marking my 5 year all clear anniversary after my battles with cancer, and our main goal will be to raise over €11,000 which means we would break the €60,000 raised mark since I started this charity event in 2019.
The proceeds raised from this event will be helping cancer patients and their families who have been affected by cancer. It will assist with cancer research, transport for cancer patients for their treatment, it will go towards providing support centers and therapies for those using the services provided by our two wonderful charities, as well as a list of other cancer support services.
You can also help us break our goal by donating during the registration process, or by using the Go Fund Me link below:
https://www.gofundme.com/the-never-give-up-5k-10k-charity-run
If you would like to raise money by way of a sponsorship card, please request one by email as below:
nevergiveupchrisproby@gmail.com
As a participant you will receive our awesome 2022 medal, we will have light refreshments in the hall when you finish, and of course there will be prizes for 1st, 2nd and 3rd male and female in both distances.
Further event information can be found on Facebook or Instagram:
@nevergiveupcharityrun
Location
St Mogue's Rural Community Centre, Inch, Gorey, Co. Wexford, Y25 RX07
Contact Organiser
FB or Instagram @nevergiveupcharityrun
FREE ENTRY VIA SPONSORSHIP CARD
€80 per single
€100 per couple
Please email nevergiveupchrisproby@gmail.com if you want me to post you a sponsorship card
VIRTUALS:
Virtual Race times can be added here: https://popupraces.ie/virtual-run-results