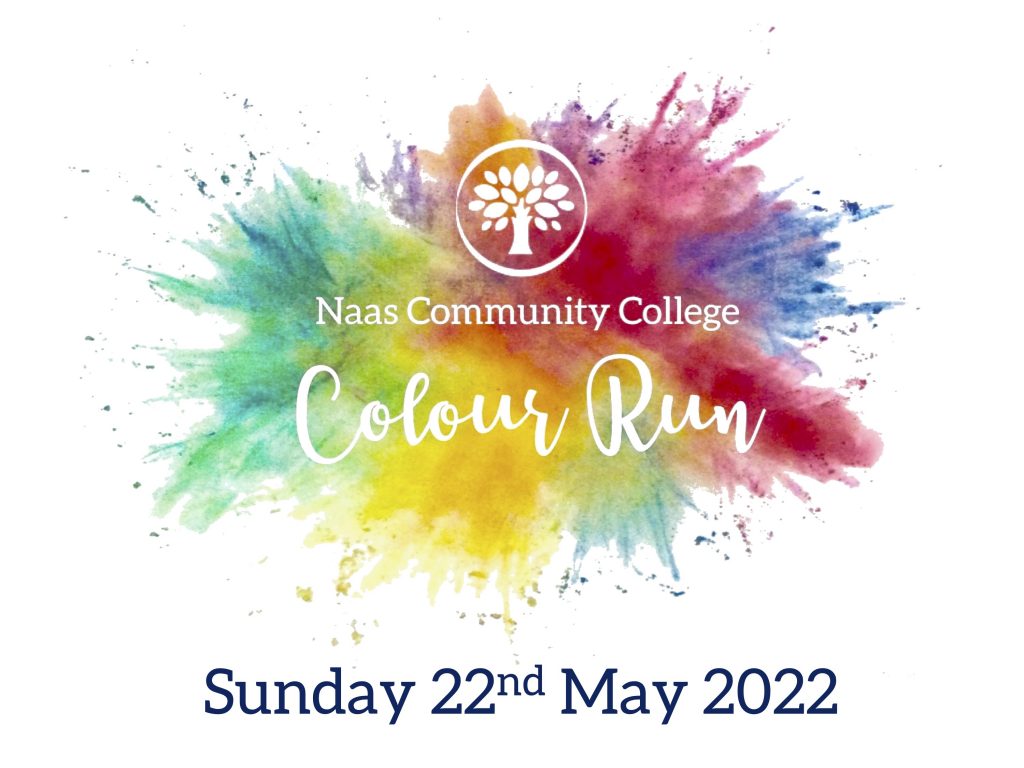 We are throwing open the school gates of Naas Community School to welcome everyone from our local community and beyond to join us in a timed 5K Colour Run  which starts and finishes on the new state of the art Naas Community College Campus.
The run will start at the school, then proceed down through Millennium Park, whilst being doused and covered in colour.  We have organised a community event at the finish line with something to suit the whole family and local community, such as a BBQ, cake sale, music and refreshments for all.
Everyone is welcome but please leave your pets, bikes, scooters, skateboards at home.  In line with keeping our carbon footprint down we encourage as many of you to walk to the event but we will have an allocated parking area nearby to facilitate people coming from far away.
We are hosting this event to raise some funds to build an outdoor amphitheatre on the site which will be available for not just our school community but for everyone in the locality to enjoy.  10% of all funds raised will go to our charity partner Insync who currently do fantastic work for the young people from our town.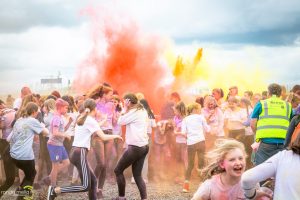 Date: 22/5/22
Time: 2pm
Venue: Naas Community College, Millennium Park, Osberstown, Naas, Co. Kildare, W91 P93F
 We are so excited to see you all on Sunday!!!! We are delighted to confirm that we have 600 registrations as of Wednesday!
 Here are a few key points to note regarding our event:
 T shirt sales Friday 11 am for school break.
 Online Registration is closed Friday.
 On Saturday, registered participants can collect their Chip n Pin from 2 pm to 4 pm. T-shirts will be on sale but limited supplies - First Come Basis. People who have not registered online have the option to pay registration between 2 to 4 pm & collect their chip & pins.
 On Sunday – late registration is on between 11-1pm. You can collect your chip n pin and there is still an option to buy T-Shirts (limited supplies available)
 Car Park facilities are available from 11-1.30pm SHARP. There will be no access AFTER 1.30pm – so that we keep the road free for participants.
To reduce our carbon footprint you could think about car pooling or alternatively operate a drop and go pick up later when road reopens. Spaces are limited the less traffic the better all round.
 Cake Sale Donations will be much appreciated – so please drop off all cakes / treats etc at the Cake Sale Tent from 11am onwards.
 Finally – we really need MARSHALLS to help with road safety on the route – so please contact Ciara Kelly (086 2272075) if you can help on the day. We really need YOUR SUPPORT here! If you are free to help – please come at 12pm to be briefed and support on the Route Zones.
 We will also have a BBQ & plenty of refreshments so you can all relax after the run at our picnic table section & enjoy the fun afterwards with some Music Entertainment from our own NCC Students too!
 Can't wait to see you all on Sunday for a great family day out!!!