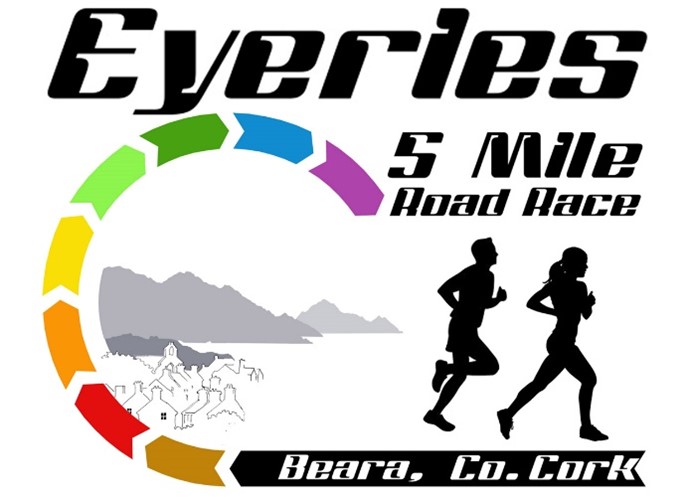 **NEW Prizes: Top 5 including 1st prize €250. Over 90 prizes on offer including Masters categories & Teams**
Eyeries Running Promotions in conjunction with Beara AC are delighted to welcome you to our seventh running of the Eyeries 5 Mile Road Race on Saturday 6th November 2021
This is the fourth and final race of the 2021 Beara A.C. Autumn 5 Mile Road Race Series. We are delighted to have Murphy's SUPERVALU, Castletownbere as our main sponsor again this year. Please support all our sponsors.
To celebrate our return after last years cancellation we have a MASSIVE Prize List for participants. Over 90 Prizes in total!!
1st Prize – €250, 2nd €150; 3rd – €100; 4th – €75; 5th – €50. + €50 Course Record.
Individual Prizes in ALL Categories from Junior to over 75's and new for this years event TEAM prizes. Another way to celebrate the end of the year. We know you deserve to celebrate the end of this long year. Finish it off in style with The Best 5 Mile around.
Some important information about the event:
*Event Starts at 2.30pm
*This is Race 4 of a 4 Race Series.
*Those entering all four races will receive a commemorative 2021 Beara A.C. race series Medal
*Single Race entry: €20 (+booking fee)
*Race Number postage is included on both individual & bundle entries up to the Monday before the event.
* Prizes for 1st, 2nd, 3rd, 4th and 5th place Male & Female (New increased Prize Amounts for Podium Prizes!!!!! €250, €150, €100, €75, €50)
* Course Record – €50
1st, 2nd & 3rd prizes for all categories : Junior, over 35, 40, 45, 50, 55, 60, 65, 70, 75. Male and Female (57 Category Prizes)
Wheelchair Prize
Visually Impaired Prize
New for 2021!!! : TEAM PRIZES: Male Team Prize (4 to score) Female Team Prize (4 to score)
Mixed Team Prizes: SUPER SIXES! 6 to score (3 Male 3 Female)
ALL Team Prizes are for 2021 Members of affiliated Athletics Ireland Clubs.
We have worked hard to make this event safe and enjoyable for all participants and volunteers.
Please take a moment to familiarise yourself with what you can do on the day to help the event run smoothly. Entrants will be sent Race Day Info following their entry.
SATURDAY 6th NOVEMBER 2021 – START 2:30pm
This race takes place on open Public Roads around Eyeries, on the Beara Peninsula, West Cork.
We wish to thank An Garda Síochána & the Irish Coast Guard for their co-operation in staging this event.