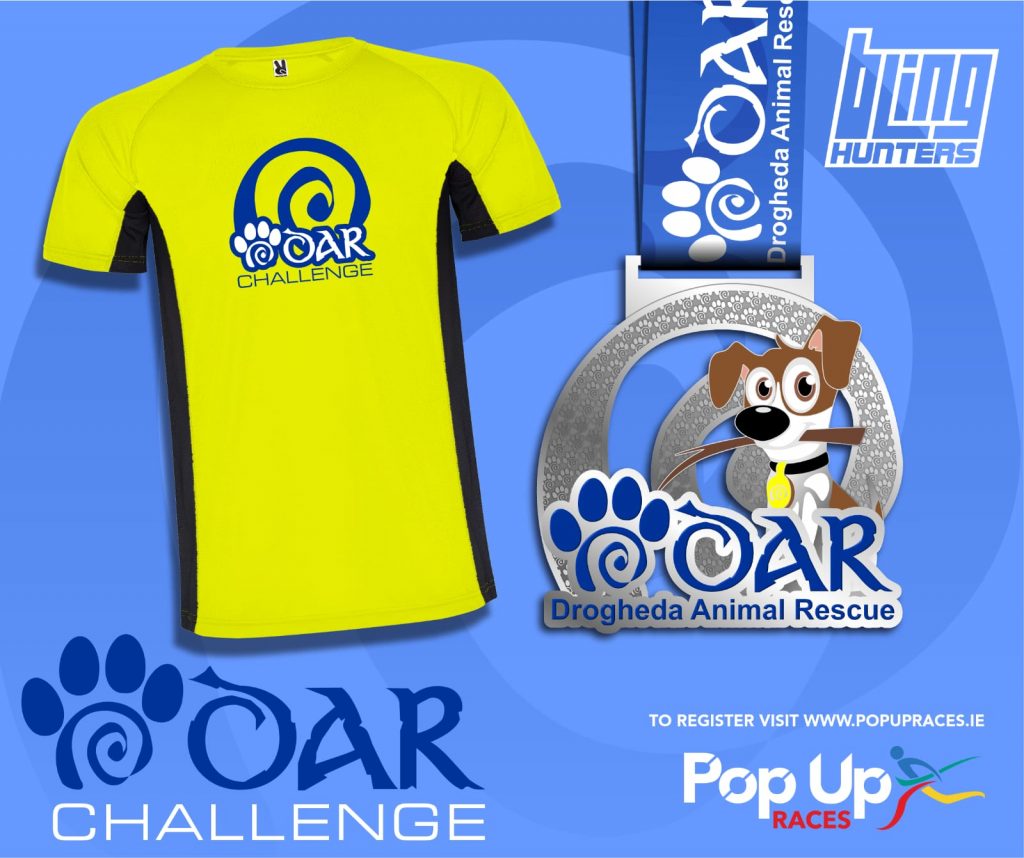 This is a fitness challenge and can take place anywhere in the world in your own time at your own pace. You can choose your own distance and the challenge will run until the end of August 2021. *Please note that medals/t-shirts will not be posted out until August.
**Run, walk, treadmill or cycle or any other form of exercise where you can record your Kilometres until you hit your target and send in your evidence to the Bling Hunters Facebook page or to Irishblinghunters@gmail.com to claim your medal and completion certificate.
FUNDRAISING
Fundraising is optional and you don't have to fundraise to take part, but if you would like a sponsorship card/more information please email Irishblinghunters@gmail.com BEFORE you register for the event, as we offer a FREE medal for any individual who raises over €50 and a free medal and t-shirt for any individual who raises over €100.
Optional fundraising pages are created at the point of registration through Eventmaster. While we would love you to fundraise, it is completely up to you, so do not use the fundraising page if you do not want to.
Please use the heading BLING HUNTERS DAR CHALLENGE as part of your fundraiser, so we can then track the funds raised for cheque presentations. You can also add your name to the heading or in your fundraising event details so people know it's you. All you do then is share like crazy on social media.
All funds raised except for medal and t-shirt costs will be donated to Drogheda Animal Rescue to continue our vital work.
ABOUT US:
Drogheda Animal Rescue was established in 1997 in Drogheda, County Louth, Ireland by a small group of volunteers concerned with animal welfare. Today, Drogheda Animal Rescue remains as a non-profit, 100% voluntary organisation committed to providing shelter and care to abandoned, strayed, neglected, abused, and injured dogs, cats, wildlife and other companion animals.
All of the animals in our care, who are old enough, will be neutered before being rehomed as we support neutering as a means to control unwanted litters of puppies and kittens. We also run a year-round Trap Neuter Return (TNR) programme to aid in reducing the feral/stray cat overpopulation.
All our dogs are also microchipped prior to rehoming to comply with legislation on microchipping. All potential new homes & owners are vetted to ensure that the animals will be well looked after and cared for by their new owners. We constantly seek to instil responsible dog & cat ownership into the public and raise the awareness of animal welfare in Ireland.
It is our policy not to put a healthy animal to sleep. If an animal has a serious injury, terminal illness, or is deemed a danger or risk to the public, we will then have that animal put to sleep upon careful consideration and recommendation by our vets & animal behaviourists, or into long-term/palliative foster care.
As with many charities, DAR relies heavily on fundraising to survive, and the global situation with Covid-19 has made it impossible for a number of our usual fundraising events to take place. Your support will enable us to continue our work in the community, and to raise much needed funds, all of which go directly towards the costs of the animals in our care.