Dripsey GAA invite you to take part in a Family Fun Walk along the historic Camino (French Way) route. The challenge is to complete the route on your own or with your family (in any way that suits your circumstances). Most people have decided to walk the route, some will cycle the route and the more active in our community are going to run the distance. Our suggestion for the casual walker is to work this into your daily routine over the months of April, May and June i.e. track your steps on a daily basis. 8000 steps a day will complete the distance for you in 40 days but you can take as long as you need.
The event is part of the Dripsey GAA Fundraising Campaign to support our new playing facility and a donation will also be made to a local charity. Follow us on our social media platforms and our dedicated Facebook page for the event where we will be giving away some small prizes throughout the event.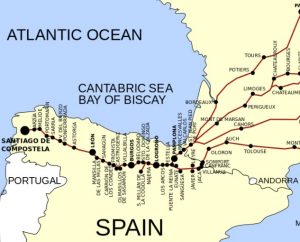 CHARITY PARTNER: https://dogsfordisabled.ie/
This event is partnering with a very worthy local charity, Dogs for the Disabled and a donation from the fundraising event will be made to the charity.
ADDITIONAL FUNDRAISING: https://www.idonate.ie/6081_dripsey-gaa.html
DEDICATED FACEBOOK GROUP: http://bit.ly/DripseyGAACamino