Back To Race List
NOTE: FROM JULY 4th, THERE WILL BE NO MORE NUMBER POSTAGE AVAILABLE, AND RACE PACKS MUST BE COLLECTED ON RACE DAY.
UPDATE: provisional timetable available here.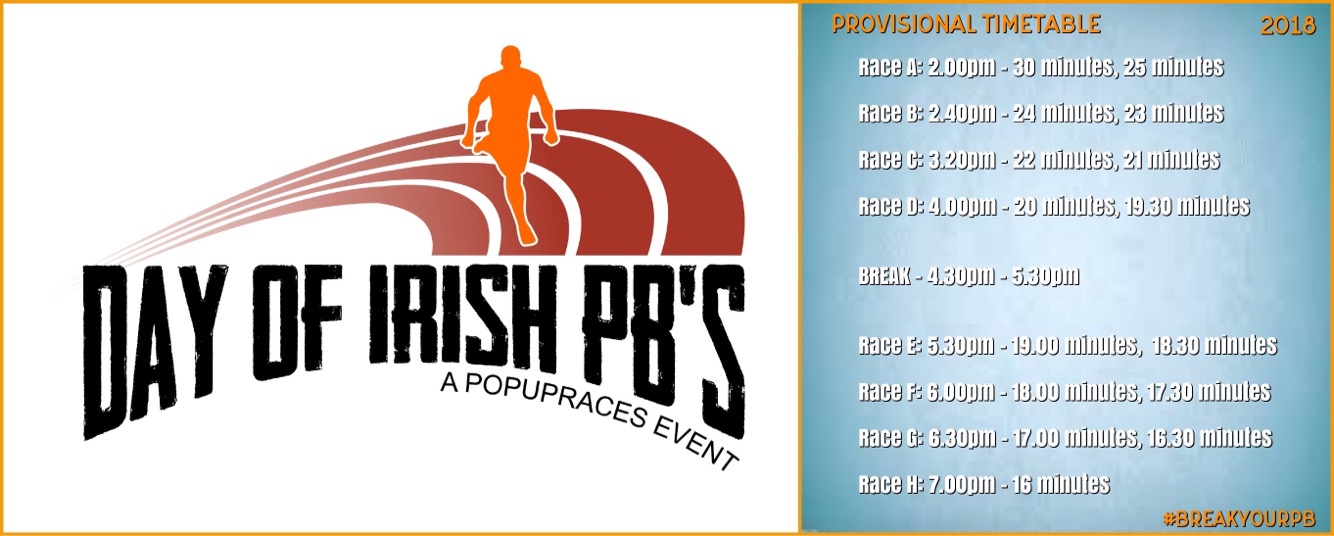 'Day of Irish PBs' is an inaugural running event organised by Pop Up Races that will take place on Saturday 14th July 2018. This event is organised by runners, for runners, with the emphasis on a competitive fun filled event. Whether you are a 15 minute 5k runner or a 35 minute 5k runner, this event is perfect for you as you chase that new 5k personal best!
The venue of Le Cheile, Leixlip, Co. Kildare was specifically chosen to provide the perfect backdrop for this unique and competitive day of exciting athletics. The international level track setting promises to provide the perfect setting for this initiative, and Pop Up Races, through this event, are encouraging those who have not experienced track running before to sign up and race – you won't regret it!
Encompassing 12 and half laps of the track, each 5,000m race will provide the competitor with the ideal conditions to secure that elusive PB (personal best). Each race will be paced by experienced athletes, including Olympians and elite level Irish runners, with the mission of bringing the competitor to their target time. Our aim is to provide a family friendly and exciting race day experience that will be one to live long in the memory.
Beginning at 2pm, the first paced race (25 minutes) will start proceedings. The day will build with a crescendo, deploying an all-action packed timetable of graded races.
Entry fee is €25 and includes the following:
Entry to a paced 5k track race
A "Day of Irish PB's" race singlet
Race number & Singlet postage
Finishers Photos
One or two extra little surprises which will be announced over time!
Registration will open for 4 races (30min, 25min, 20min & 18min) and we will then open more events based on demand. Registration will close on SUNDAY JUN 24th if event has not sold already.