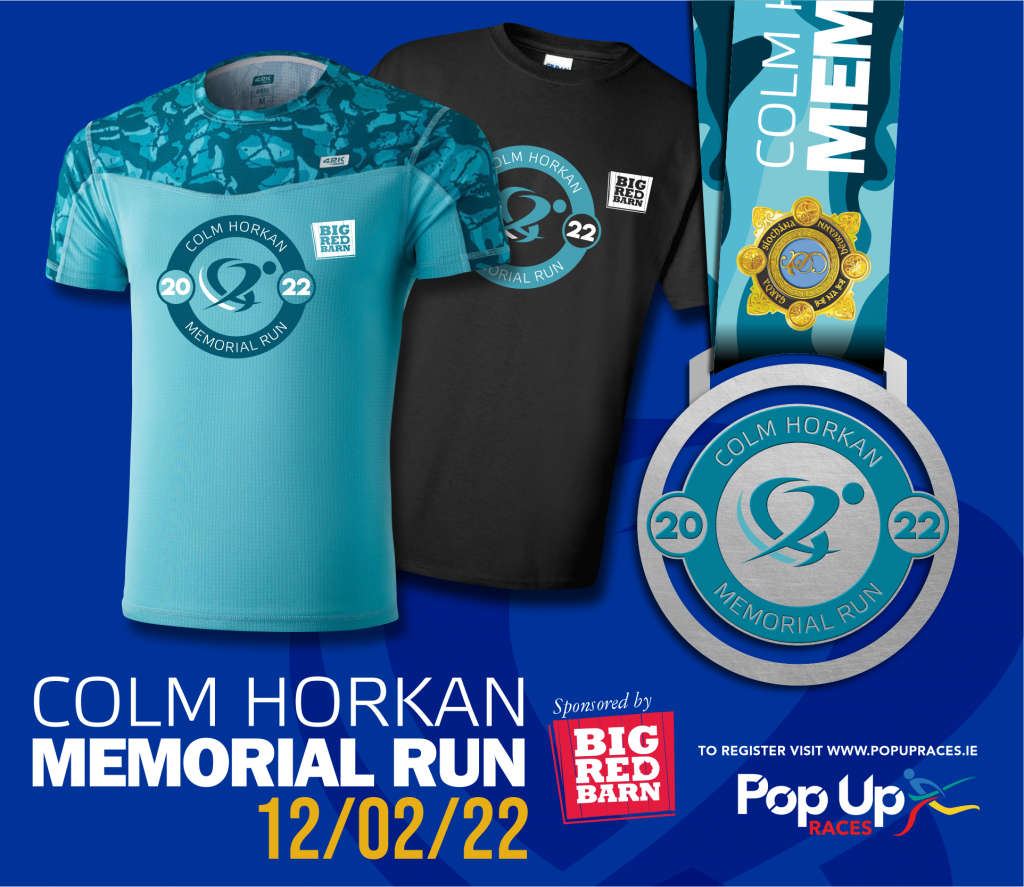 Event Details
Location

Mayo

Race Type

Real Events, 10k Run, 5km, Half Marathon

Date

12-02-2022

Time

09:30
Enter Now
Saturday 12th February 2022
Colm's family, friends, colleagues and community are still struggling to comprehend the shocking events of Wednesday June 17th, 2020, when Colm was cut down in the prime of his life, doing the job he loved, in the best way he knew how. He touched the lives of many in the communities of Charlestown and beyond, with dignity and regalness characterising his every action and deed.
His quality and sheer class will forever remain intact as his kindness, modesty and heroism will stay etched in our memories and consciousness for many a long day.
After the success of last years virtual run, East Mayo AC together with Charlestown Sarsfields GAA are looking forward to welcoming you all to Charlestown for a race on the 12th of February 2022 where you will receive a custom-made medal in memory of Colm. Custom designed t-shirts are also available to purchase with a choice of either a technical fit or cotton option. This year we've also added a hoodie as an optional extra with an embroidered crest. Please see T-shirt and Hoodie size and fit guides below.
We are also offering a virtual option where you can run, walk, treadmill or cycle your chosen distance and can take part anywhere in the world at you own pace over the same weekend. – Please note postage will only be available with Ireland this year, so please provide an address of a family or friend that could forward your package on to you.
Monies raised will go towards the development of the new 'All-Weather floodlit pitch' at Charlestown GAA to be named the 'Colm Horkan Memorial Pitch' and community walkways and will be a fitting legacy for the great man and a facility for the community to enjoy for generations to come.
We are extremely grateful to the 'Big Red Barn' for so generously coming onboard as main sponsors of our event. Check them out on www.bigredbarn.ie
NB This event will be organised in adherence with all Government and Health guidelines. Should restrictions re number of participants be implemented before the race, we will limit numbers accordingly and contact those that registered first to take part in the physical race and all other entries will be transferred to virtual participants.
You can check out the development plans on www.colmhorkanmemorialpitch.com
Price list: (+ Booking fee & Optional Postage)
5K        €20 incl medal, €30 incl medal & tee
10k      €25 incl medal, €35 incl medal & tee
Half     €35 incl medal, €45 incl medal & tee
Family 5k – up to 2 adults and any number of children from same household: €60 incl 1 medal, & 2 tees, plus kids medals and goodie bags at finish line.
Virtual race (any distance) €25 incl medal, €35 incl medal & tee
Optional extras: Tshirts €10. Hoodie €38.50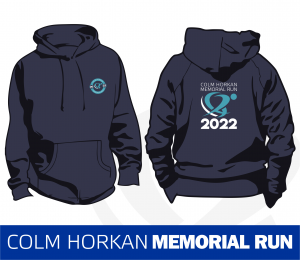 **FOR TSHIRT AND HOODIE SIZING INFO, PLEASE CLICK ON THE FAQ TAB FOR THE EVENT ON THIS PAGE
Start Times:
Half Marathon – 9.30 am
10k – 10am
5k – 10.15
Full event details will be emailed to you a couple of days before the race.
Thank you for your support!
Adults Hoodie:
Small – to fit 37" chest
Medium – to fit 40" chest
Large – to fit 43" chest
XL – to fit 46" chest
XXL – to fit 50" chest
XXXL - to fit 53" chest
Kids Hoodie:
7-8yr - to fit 29" chest
9-11yr - to fit 32" chest
XS - to fit 34" chest
Gildan cotton tee (black):
Small – 46cm x 71cm
Medium – 51cm x 74cm
Large – 56cm x 76cm
XL – 61cm x 79cm
XXL – 66cm x 81cm
XXXL – 71cm x 84cm
XXXXL - 76cm x 86cm
42K TECH TEE (blue):
XS – 45cm x 62cm
Small – 48cm x 65cm
Medium – 51cm x 68cm
Large  - 54cm x 71cm
XL – 57cm x 74cm
XXL - 60cm x 77cm