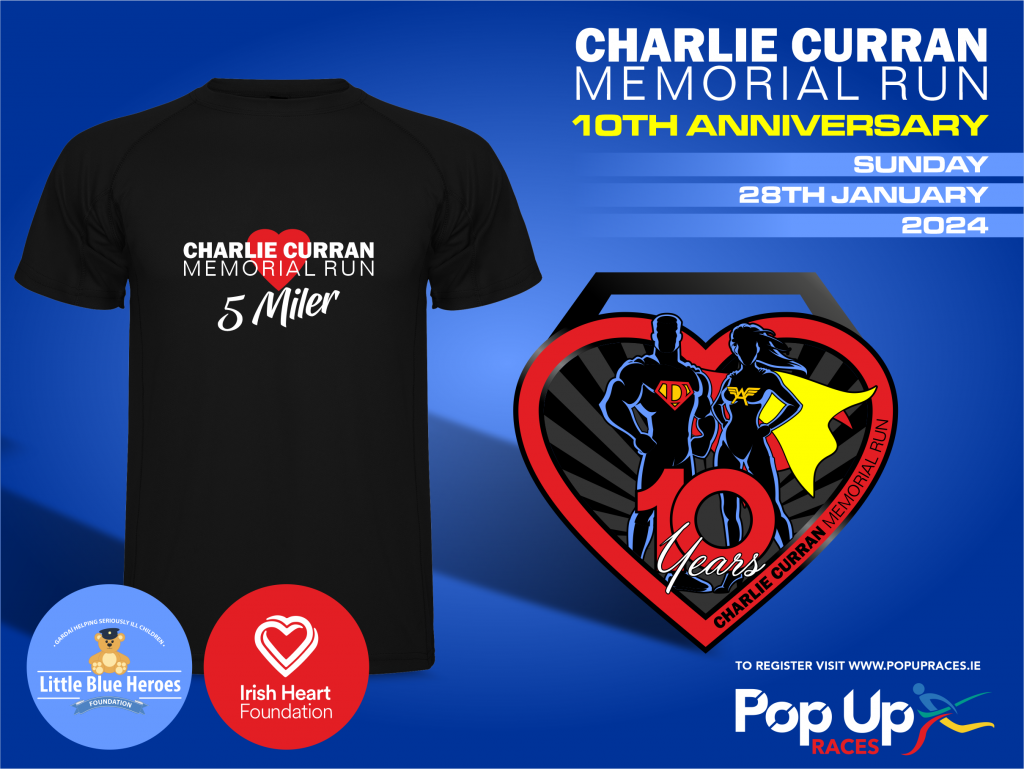 Event Details
Location

Carlow

Race Type

Real Events, 5 Mile Run

Date

28-01-2024

Time

11:00
Enter Now
10th Annual Charlie Curran Memorial Run 2024
We are delighted to announce that on Sunday 28th January 2024 we will see us reach a very special milestone as we celebrate our 10th Anniversary of our event.  We can't wait to welcome runners and walkers back to Carlow for the 10th staging of the Charlie Curran Memorial Run 5 Miler. You won't want to miss this year's event as it will be extra special as we help much needed funds for two amazing charities.
Our chosen 2024 charity partners will be Little Blue Heroes and Irish Heart Foundation – The National Heart and Stroke Charity two charities that really need our support.
Meet our Heroes
OUR 2024 Superman and Wonder Woman Race Ambassadors Daniel Tighe of Daniel Voyage and Amira-Anne O Toole Rauf,  of Princess Amira-Anne O Toole Rauf please check out both pages on Facebook and give them both a like. I think you will all agree that our 2024 race ambassadors embody everything we believe a real hero is and should be. NEVER GIVE UP!!!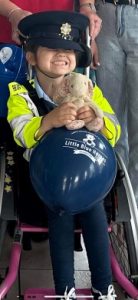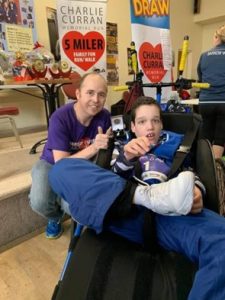 Event Background
The event was set up in 2015 in memory of my father Charlie Curran who passed in 2005 at the age of 52 due to a heart attack. Like so many bereaved families we were shocked at the sudden passing and totally broken at the loss and the void that this would leave in our lives. Over the years and remembering the moments and times we shared together and cherished, this has helped me and my family deal with the loss.
I decided in 2014 as his son I wanted to remember him in a way where everyone could come together and enjoy themselves and of course get a cup of Tea and some Food 😊 and the Charlie Curran Memorial Run was born. The rest they say is history.  They came from far and wide in January 2015 from Bagenalstown to Ballinasloe, and from Cork to Donegal to Carlow town and to scenic Oak Park to honour Run/ Walk in my dad's memory while remembering their loved ones who sadly had also passed.
Fast forward now to 2023 and we have raised just over €62,000 in total over the past 9 years for multiple Irish charities and this year we would like to grow that total with your help and support.
After 9 years of staging this event, I wanted to make our 10th year extra special and memorable as over the years we have been truly blessed to meet and welcome some inspirational people to our event two of these of whom I have chosen to be our 2024 Race Ambassadors.
This is why I've chosen Little Blue Heros and Irish Heart Foundation these are two charities that mean so much to our patrons and our race committee and myself personally.
Our 2024 Charity Partners
Little Blue Heroes Foundation, established in 2017, is a not-for-profit registered charity voluntarily led by Garda members, retired Garda members and civic minded people from communities. The charity employs one person from the community to operate the day to day administration of the charity.
We are independent of An Garda Síochána, and are funded entirely by donations and fundraising – we receive no money from state funding or directly from An Garda Síochána.
Little Blue Heroes Foundation's vision is to support families of children with serious illnesses in Ireland while empowering the lives of children through positive community engagement.
To provide practical and financial support to families of children who have serious illnesses in Ireland while granting the wish of the children it supports to become Honorary Gardaí to empower the child and foster positive engagement with An Garda Síochána.
Identify, communicate and financially assist families of children who have serious illnesses in Ireland.
Provide practical support and enhance community links to families of children who have serious illnesses in Ireland.
To empower the children and create memories for families we support by fostering positive community engagement with An Garda Síochána.
Financial Support
We provide financial aid to support our Little Blue Heroes subject to available funding. Application for support must meet our beneficiary criteria (see below).
Our Beneficiary Criteria
Little Blue Heroes Foundation only considers applications for assistance for families with children (a child as being defined under the Child Care Act 1991) with life-threatening and life-limiting condition(s) that comes under one of the four categorisation set out below:
Category 1
Life-threatening conditions for which curative treatment may be feasible but can fail. Where access to palliative care services may be necessary when treatment fails or during an acute crisis, irrespective of the duration of that threat to life. On reaching long term remission or following successful curative treatment there is no longer a need for palliative care services. Examples: cancer, irreversible organ failures of heart, liver, kidney.
Category 2
Conditions were premature death is inevitable, where there may be long periods of intensive treatment aimed at prolonging life and allowing participation in normal activities. Examples: cystic fibrosis, Duchenne muscular dystrophy.
Category 3
Progressive conditions without curative treatment options, where treatment is exclusively palliative and may commonly extend over many years. Examples: Batten disease, mucopolysaccharidoses.
Category 4
Irreversible but non-progressive conditions causing severe disability leading to susceptibility to health complications and likelihood of premature death. Examples: severe cerebral palsy, multiple disabilities such as following brain or spinal cord injury, complex health care needs and a high risk of an unpredictable life-threatening event or episode.
Irish Heart Foundation
Every hour someone in Ireland suffers a stroke. Every day, hundreds of people are diagnosed with a heart condition.
The lives of these people are often cut tragically short. Many are left disabled. Almost 9,000 people die each year, making heart disease and stroke one of the nation's biggest killers.
It shouldn't be this way and this fact forms our reason for being. We are the nation's heart and stroke charity.
Our mission is to eliminate preventable death and disability from heart disease and stroke and to support and care for those living with these life-changing conditions.
We work to achieve our mission through:
Caring for and speaking out for people in the community living with stroke and heart conditions and their families
Innovating and leading in health promotion and prevention to change health behaviours and reduce cardiovascular risk
Building a nation of lifesavers through CPR training
Campaigning and advocating for policies that support people to live healthier lives
Read more about our mission and how we work to achieve it in our strategy, Defending, Empowering and Caring for Irish Hearts: Strategic Plan 2021-2024.
For more information on all supports available please click the link below you never know when someone you know might need the help of the Irish Heart Foundation.
Irish Heart Get support on heart disease and stroke from the Irish Heart Foundation
How can you Help??
So you've heard how your support can help support the work of these two charities all that's left to do now is to get yourself registered and signed up on www.popupraces.ie . Thank you in advance on behalf of Little Blue Heroes and Irish Heart Foundation and myself Charlie Curran Jnr.
Event Sponsorship Fundraising
To mark of 10th Anniversary, we have decided to give you the option of starting your own personal fundraising page to support the work of the charities all details will be provided when you register for the event. Give your participation some extra meaning. All funds raised will be equally divided between both charities.
Race Day Details
Charlie Curran Memorial Run 5 Miler
Date: Sunday 28th January 2024
Location: Oak Park Road, Carlow
Race HQ: Carlow Town Hurling Club
Race Start Time: 11am