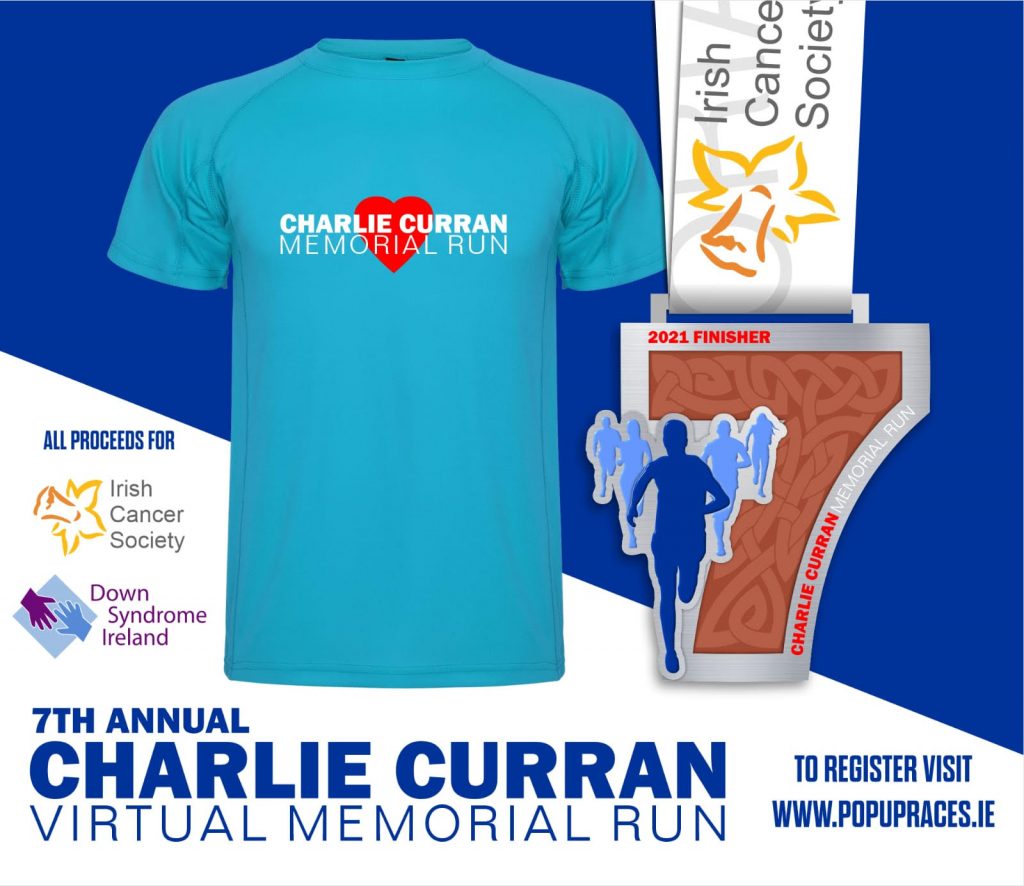 7th Annual Charlie Curran Memorial Run 2021
Calling all runners, joggers, walkers and everyone in between.  January 2021 will see the return of the Charlie Curran Memorial Run but in a different format than usual. Due to current restrictions and following government guidelines we will go Virtual for our annual event.  After sold out events in 2017,2018,2019 & 2020 we are hoping you will join us in making 2021 as successful as previous years.
What's a virtual event I hear you ask, a virtual event allows you the freedom to choose your own distance, and your way to complete your challenge and the freedom to do so be it running, walking jogging, cycling or on a treadmill. Your exercise can be done in the beautiful scenic locations your county has to offer.
This year like previous years in the past we have chosen two great charities to benefit from your support and all proceeds from this event will be equally shared between both the Irish Cancer Society and Down Syndrome Ireland.
Both our charity partners make a huge impact on the families and the individuals that avail of their services, here's a little of information on how your support will assist in their vital work.
Irish Cancer Society
We are a community of patients, survivors, volunteers, supporters, health and social care professionals and researchers. Together we are transforming the experiences and outcomes of people affected by cancer through our advocacy, support services and research.
It was estimated that in 2019 more than 40,000 people in Ireland were diagnosed with cancer or a related tumour. More people in Ireland are being diagnosed with cancer now than ever before. Our services and supports are more in demand and this will continue for the foreseeable future. The need for our work in research and advocacy is more important now as we try to find better ways to prevent, diagnose and treat cancer.
We can all do more to reduce our risk of getting cancer. Four in ten cancer cases are preventable. Yet many people are still unaware of cancer risk factors. This highlights the need to raise awareness about the causes of cancer and to provide services that support people to live healthier lives.
Being told you have cancer can be devastating. The good news is that many people go on to live long lives after a diagnosis. There are now more than 200,000 cancer survivors in Ireland. This means that there is a growing need for the support that the Irish Cancer Society provides for survivors.
Down Syndrome Ireland
Down Syndrome Ireland has twenty-five branches nationwide. Our branches are run almost exclusively by volunteer parents working in committees and providing their members with a wide range of services and social opportunities for babies, children, teenagers and adults with Down syndrome and their families.
The services and opportunities offered to members vary with each branch, but among them are Parent Link, Early Development Programmes, Mother & Child Groups, Pre-school Home Teaching Service, Speech & Language Therapy, Occupational Therapy, Down Syndrome Ireland's Latch-On (Adult Literacy) Programme, Social Farming and Employment Opportunities.
We work to gather all the latest international research on Down syndrome and disseminate it to parents and professionals in the community.
We also link in with universities in Ireland to promote and support Down syndrome-specific research. Areas in which we are currently involved in research are parent's experiences of early intervention, aspects of language disorder in school-aged children with Down syndrome, studying the outcomes of speech-and-language-led early intervention groups and training communication partners in the wider community to promote social inclusion.
Our Information Centre provides information to both parents and professionals in key areas related to Down Syndrome.
You've read they help and you can play your part by signing up to take on your own challenge on your terms your way.
Simply log onto www.popupraces.ie and register for the event there will be two options available these will be Medal only or Medal and T-shirt (this option will end on 31st December 2020).
Entry cost Medal only option is €17.50 & Medal and T-Shirt option is €31.50. T-Shirt only €15 (* prices excluding 7% booking fee & INCLUDES postage)
Complete your challenge in January 2021.  We the organisers will be completing our own personal challenges on 31st January 2021 as this was due to be the official race day.
Our mantra for this year is Keep Moving Forward so come join us and many others in making a difference.