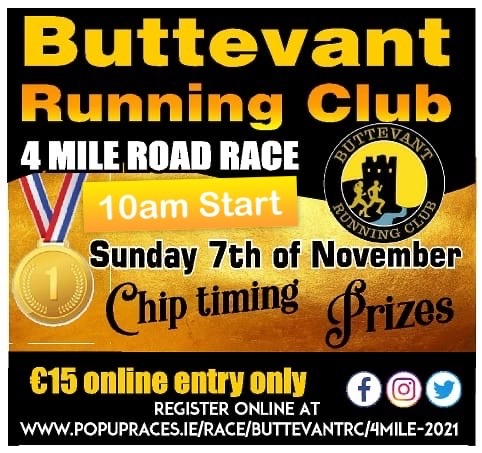 Welcome to the Buttevent RC 4 Mile Road Race 2021.
Our event usually takes place in May, but due to restrictions, we were unable to host a physical event. We are delighted to be able to host you this November, and we plan to be back on our usual May slot from 2022!
The route is a relatively flat 4 mile loop, starting on R580, at the end of the town on the Kanturk road, turning left onto New Street, left onto R522, turning first left at The Crossroads Bar, bringing you back to the R580 past the start point, left again at New Street.  Finishing near the Buttevant GAA pitch.
Ample parking near Race HQ (Buttevant GAA complex).
Off road warm up area available around the pitch.
Custom buff/snood for all participants
Registration available online only
AAI Permit Granted.