Run, walk, treadmill or cycling challenge or any other form of exercise where you can record your kilometres until you hit your target
Choose your own distance and we have no time limit on the challenge
Save your evidence on your running watch, fitbit etc until you hit your target and send in the evidence to our Facebook page bling hunters group or to this email address:
Irishblinghunters@gmail.com
To claim your medal and completion certificate
Take on the whisper from heaven remembrance challenge and remember those we love so dear and are no longer with us. We all miss our loved ones so much so we will take on this challenge to remember all the beautiful memories we made and to let our loved ones in heaven know we think about them all the time
"Time cannot heal the heartache or stop a silent tear. It won't take away the memories of one we loved so dear
Missing you always"
This poem is on the back of the tshirt and medal
We are leaving it to you guys to choose your own charity if you would like to set up an online fundraising page to fundraise for your chosen charity.
We recommend idonate.ie or Facebook fundraising
Fundraising is optional and you don't have to fundraise to take part.
For more information contact Wayne on the Facebook page bling hunters or on
0862005652
Irishblinghunters@gmail.com
FREE TROLLEY TOKEN (BELOW) FOR FIRST 200 REGISTERED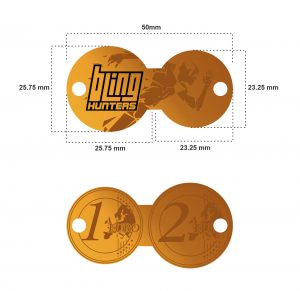 Other optional purchases: