Run, walk, treadmill or cycle challenge or any other form of exercise where you can record your kilometres until you hit your target
Choose your own distance and we have no time limit on the challenge and help Nahyan get one step closer to new York.
Family message.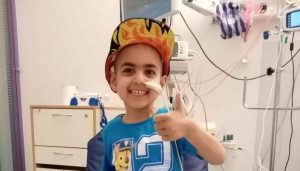 Hollo everyone. We are a family from Navan Co Meath Ireland, and we are appealing to the country to help save our child Nahyan.
He was diagnosed with metastatic neuroblastoma, a very rare form of cancer in May 2020. Nahyan has high risk stage 4 NB. Cancer which has a survival rate of only 40 percent.
Since the diagnosis we have been through hell and back. Nothing about this journey has been easy. We were given an 18 month treatment plan including chemotherapy, stem cell transplant, surgery, radiation and immunotherapy. Nahyan is now in té last part of treatment I.E immunotherapy.
My real life superhero Nahyan has fought this battle with courage and strength and tears and pain but keeps fighting like the warrior he is.
He is still fighting this monster everyday and has developed countless long term side effects from the treatment. Still we have no other option but to keep fighting this monster with your help.
Once Nahyans treatment finishes in Ireland we are working hard to raise over 350,000 euro to get Nahyan on the bivalent vaccine trial at msk Cancer Centre, New York. It is the only pediatric tumor vaccine in existence.
As the relapse rate for NB stage 4 is around 60 percent and if a child relapses there is no other known cure and treatment that works, that is why it is crucial that Nahyan gets this vaccine so we are doing all we can to get him to new York for this treatment.
The vaccine has shown tremendous results in children with NB
Please help us give our son Nahyan a second chance at life
Thank you so much for your support
Nahyans family
Message from bling hunters.
We are calling on everyone to get behind this event and give this child a chance at life. No family should have to go through this pain and most definitely should not have to worry about money at these very difficult times. It's a parent's worst nightmare so please do what you can to help
For more information contact Wayne on the bling hunters Facebook page or by phone 0862005652 or email irishblinghunters@gmail.com
Let's do this