Event Details
Location

Race Type

10k Run, 1k Run, 5km, Half Marathon, Kids Run, Marathon, Virtual

Date

27-06-2020

Time

23:45
Enter Now
Back for the month of June…it's just you, AGAINST THE CLOCK
Pop Up Races are delighted to bring you our Virtual Race, the "AGAINST THE CLOCK" Challenge. Participants will receive a Bespoke Medal and Limited edition Fridge magnet, where you can display your time from the challenge.
Sign up for this challenge to go against the clock in the month of June. Why not build it up, try 5km on week 1, 10km on week 2 and a half on week 3? All on a single entry. (you do not have to sign up more than once to submit times on multiple distances)
*PLEASE REMEMBER TO ADHERE TO GOVERNMENT GUIDELINES AROUND MOVEMENT RESTRICTIONS & SOCIAL DISTANCING WHEN COMPLETING YOUR CHALLENGE*
**PLACES STRICTLY LIMITED**
RACE Distances:
1km Kids Challenge
5km
10km
20km Combined Family Challenge
Half Marathon
Marathon
HOW IT WORKS:
Sign up for your preferred distance on our website
Individuals run their selected distance on a given day in June
Our family challenge is for families of 4 and is a 20km challenge. The family walks/jogs a cumulative 20k and sends us their combined time for the challenge.
Each registrant (family or Individual) will receive a Bespoke medal and Fridge Magnet.
Packs will be posted out by the 3rd week of June. 
SUBMITTING YOUR RESULTS via our app
We have a virtual run to suit everyone, with challenges over 1k, 5k, 10k, Half Marathon, and full marathon distance.
We'll be publishing results online weekly, so what do you need to do?
Sign up for your preferred event
 Complete your run
Record your evidence
Download the Pop Up Races mobile app and submit your results on the "Virtual Results" tab on the main menu
Your medal will be posted in mid June
Results leaderboard updated twice weekly
Distances: 1k, 5k, 10k, 20km, Half Marathon (13.1miles or 21.1km)  & full Marathon (26.2miles, 42.2km)
Virtual Running – FAQ
When do I have to complete the distance by?
There is NO DATE OF COMPLETION TIME FRAME.  Please run/walk/jog your chosen distance at your own convenience.  Anytime and any day that suits you.  Stay Safe.
Can I complete it over a number of runs?
MULTIPLE Run/Jog/Walks to complete the distance is accepted.  (Just submit the combined time when uploading to the Pop Up Races app.)
Can I Change distance after registering for the Virtual Run?
Moving up or down chosen your distance is no problem.  When submitting result please remember to choose distance actually completed.
How do I upload my time/confirm completion?
HOW TO UPLOAD TIMES TO THE POP UP RACES APP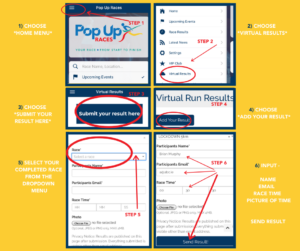 I uploaded to the wrong race, what do I do?
Re upload to the correct race.
I uploaded incorrect time?
Re upload with correct time.
How do I know I uploaded correctly?
You will receive a confirmation email.
I received my confirmation email but don't see my time on the results page?
There may be a time delay of a few days before you see your time on the results page.  There is a transfer of results from the app to the results page twice a week.