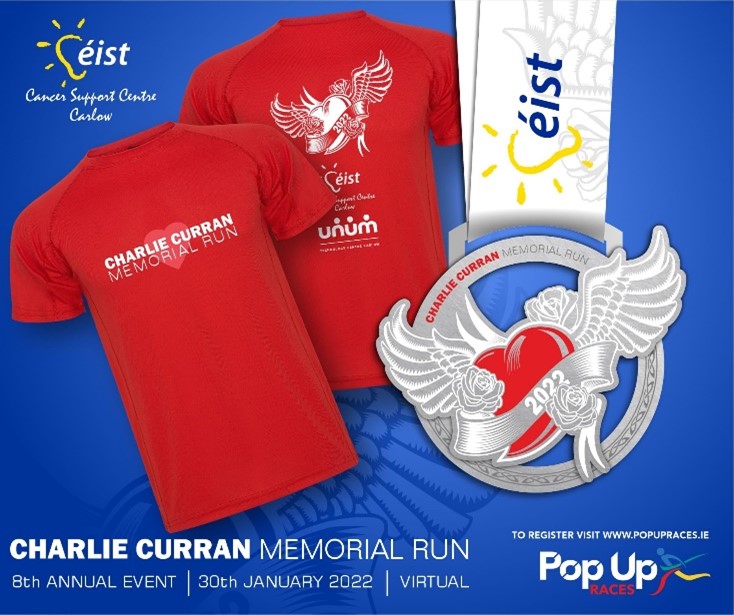 8th Annual Charlie Curran Memorial Run 2022
Calling all runners, joggers, walkers and everyone in between.  January 2022 will see the return of the sell-out Charlie Curran Memorial Run. Due to current high case levels and to fully protect our volunteers, families and our race partners and associated clubs we will once again go Virtual for our annual event.
The event was set up in 2015 in memory of my father Charlie Curran who passed in 2015 due to a heart attack. We have raised just over €50,000 in total over the past 7 years for multiple Irish charities and this year we would like to grow that total with your help and support
What's a virtual event I hear you ask, a virtual event allows you the freedom to choose your own distance, and your way to complete your challenge and the freedom to do so be it running, walking jogging, cycling or on a treadmill. Your exercise can be done in the beautiful scenic locations in your county or another location throughout Ireland or even a different country.  Last year we had people complete their challenge in America, Australia, Spain and England to name but a few. Complete you activity from January 1st 2022. Our official race day would have been 30 January 2021 and we will complete our challenge on that day. Medals and t-shirts will be posted out to you in advance of the 30th of January 2022. No Restrictions exist you can complete when you want or are able to in 2022.
This year like previous years in the past we have chosen another worthy charity to benefit from your support and all proceeds from this event will go direct to Éist Cancer Support Centre Carlow.
Éist makes a huge impact on the families and the individuals that avail of their services, here's a little of information on how your support will assist in their vital work.
The Eist Cancer Support centre started life as the Carlow Breast Cancer Support Group which was set up by a group of breast cancer survivors in 2004. The centre opened to the public in October 2012 at the Waterfront, Mill Lane, Carlow for the benefit of all county Carlow citizens and those who live in the surrounding areas.
A cancer diagnosis can be a life shattering experience for the whole family and the Eist centre is a peaceful, tranquil, supportive place where all those affected by cancer can avail of support.
Mission Statement
Éist Cancer Support Centre Carlow aims to provide emotional support and practical help to men and women affected by cancer, their families, and carers.
Support Services
Counselling – By Appointment
Reflexology – By Appointment
Manual Lymphatic Drainage – By Appointment
Men's Support Group
Women's Support Group
Bereavement Group
Walking Group
Telephone Support
Drop-in Service – A doctor's referral is not needed to avail of any of these services.
New Building address: 46 Idrone Park, Tullow Rd, Carlow. R93 R280
I-Donate Fundraising Page link https://www.idonate.ie/CharlieCurranMemorialRun2022
You can also donate to our I-Donate fundraising page if you would like to make an additional donation or if don't wish to take part in our Virtual Event. All donations are greatly received no matter how small.
You've read they help and you can play your part by signing up to take on your own challenge on your terms your way.
Simply log onto www.popupraces.ie and register
On Behalf of Éist Cancer Support Centre Carlow, my family and myself I can't that you enough for your continued support of the Charlie Curran Memorial Run in these testing times.
Thank you
Charlie Curran Jnr (Event Organiser)