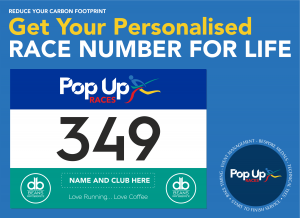 Buy a Number for Life
Benefits include:
Meaning you never have to pay for postage of a race number again
You are reducing your carbon footprint by reducing the number of race numbers used each year
Register for an event online and walk straight to the start line, avoiding busy registration area
You will also be able to speed up registering online, as "Number for Life" users will simply have to enter their number at the registration process and then pay for their entry.
€9.95 including postage and fees
How does it work? Well, it's simple really, any race that we time, you register as normal, but you will never need to pick up a race number. Once this one is kept safe and dry, it can be reused multiple times at various events throughout the year. Keep in in the glove box of your car and you'll never forget it!
*If buying as a gift for someone, put that persons name, dob & club in, and put in your own email address and postal address as the buyer of the number. eg: Address c/o Joe Bloggs, Dublin, Ireland)
**NOTE: Bibs will be printed and posted in the first week of every month. EG: All numbers ordered in November will be posted out by the end of the first week of December. Check your confirmation email for confirmation of your Number for Life Bib Number (it will start with a 5xxx or a 6xxx)