It started on St Patricks Day in Portlaoise, and will conclude in the city of Cork this coming Saturday. The 3rd edition of the Kia Race Series has been the most keenly contested yet, and the introduction of the Team element to the series has added an exciting new dynamic to an already gripping series.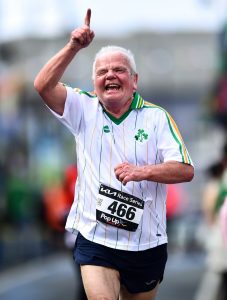 On Saturday evening, the winners of the male, female and Team prizes are still all up for grabs. The John Buckley Sports Cork City 10 Mile, hosted by St Finbarrs AC in Cork will bring 1500 runners to the streets of Cork City, some looking to pb, some looking to complete the distance for the first time, some preparing for Autumn marathons and some chasing Kia Race Series Honours!
The Females:
Lizzie Lee leads the way and is guaranteed a top 2 finish. Michelle Finn can spoil the party for Lizzie by finishing ahead of her in Cork and taking the series. However with Finn in Munich for the Europeans Championships, Lee will not have to run and will be crowned a worthy winner of the 2022 series (collecting €1500 in the process). The second place, and €1000 prize, is still very much up for grabs with Maria McCambride (DSD) in pole position, just. Leevales Jessica Coyne and Ciara Wilson (DMP) can still take the spoils by finishing ahead of McCambridge.
The Males:
Paul O Donnell of Dundum South Dublin and  William Maunsell (Clonmel) will be the top 2, and only a Maunsell win here can put him in with any chance of toppling O Donnell. These athletes, along with Michael Harty (East Cork) have been the standout performers on the mens side this year.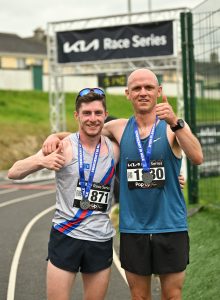 The Teams:
It is fitting that the team that have travelled furthest this year are the team in pole position in the standings. Cork Club Leevale, led by Olympian Lizzie Liee have been ever present and lead the series. It has been a titantic battle with another huge club, Dundum South Dublin AC, who sit second and need to win in Cork and hope Leevale are no better than 3rd, have been equally as impressive, and these two giant clubs of Irish Athletics will be a fitting top 2 in this series. They are vying for the €7000 top prize, with €5000 for second, and Midlands club Mullingar AC guaranteed 3rd place and €3000.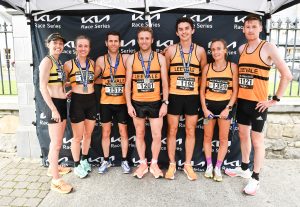 It really is all to play for. The race has been sold out for many weeks, It kicks off at 5pm, and by 6:30pm Saturday evening, we should know our champions for the 2022 Kia Race Series. Best of luck to you all.