Round 2 of the Kia Race Series brought runners, joggers and walkers from all corners of Ireland to Kilkenny City for the annual "Streets of Kilkenny" 5k road race, back in its usual Holy Thursday slot after an enforced Covid absence.
The race has become an established "must do" race on the calendar, mainly due to the superb organisation by host club, Kilkenny City Harriers, the fast (very fast) course, and the amazing support all around the course.
The 2022 running of the event had two very popular winners, with Lizzie Lee (Leevale AC) holding off Maria McCambridge and clubmate Jessica Coyne to take the womens race in 16:31, while in the mens race, local favourite Eoin Everard held off spirited challenges from a number of athletes to take the win in 14:11, which was a new course record, and means Everard collected a course record cheque from Kia Ireland for €500 to go with the winning prize money on offer.
The race has an extremely fast start, down from Kilkenny Castle onto the 2 loop course, and both mens and womens races were close right to the finish. Everard ran in a group led out by Sean Doyle and including Michael Harty, Brian Maher and William Maunsell, and the decisive break by Everard was only made in the last km. In fact, this duel with Harty yielded not only a course record for Everard, but a National 5k 040 record for Harty, who had what could be argued as the run of the night!
It was a similar story with the lead females, where Coyne, McCambride and Lee were nip and tuck throughout. Lee took the win and led the Leevale AC team home to another top of the podium place in the Kia Race Series team standings. McCambridge in second also ran a National record in the O45 category, in a race that had well over 200 athletes break the 20 minute barrier.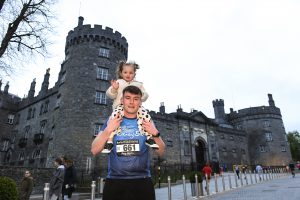 The Kia Race Series moves on to Enfield for the annual Bob Heffernan and Mary Hanley 5k on Tuesday, May 18th at 8pm. Its another fast course and entries are flying in!
You can find information out the Kia Race Series including standings after round 2 HERE
See you on May 18th!!