The Kia Race Series rolls into the Midlands this St Patricks day, as athletes from all over the country descend on Portlaoise for the annual Streets of Portlaoise 5km Road Race. Cancelled in both 2020 & 2021, it is great to finally be back in Portlaoise, and with Portlaoise Athletics Club at the helm, this looks like being the biggest & best edition of the race.
The race is also the first round of the 2022 Kia Race Series, and with a prize pot of €27,000 on offer over the duration of the series, a star studded field will assemble to run for both individual and team glory.
On top of the prize money on offer from the host club, Kia Ireland are offering €500 course record bonuses in both the male and female races. The times to beat are good ones though, with John Travers (14:25) and Kerry O Flaherty (16:10) the current holders.
The women's entry is littered with top class talent, with Aoife Cooke, Lizzie Lee, Aoife Kilgallon, Ann Marie McGlynn and Michelle Finn amongst the elite names that are entered for the race. Previous race series winner Sinead O Connor (Leevale) also returns after taking the title (and car) back in 2019.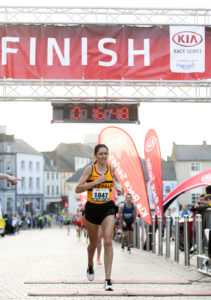 In the men's race, there are also plenty of internationals on show. While there are doubts over the participation of Sean Tobin and Alberto Mondazzi, athletes like Paul O Donnell (DSD) and Evan Fitzgerald (Clonmel), the recently crowned National Intermediate Cross Country Champion, will ensure it's a fast race from the gun.
To add to the event, the Kia Race Series will also include a Team element this year, with 6 athletes (3 males/3 females) scores counting towards an overall prize pot of €15,000 at the end of the series. Clubs like Leevale, Dundrum South Dublin, Kilkenny City Harriers and many more will have eligible teams this weekend, and will look to get off the mark early in pursuit of this fabulous cash prize.
The race starts at 11am, and live results can be found here on the morning:
The start list can be found here: https://www.popupraces.ie/race/the-streets-of-portlaoise-2022/ or here (pdf)
Best of luck to all participants – what a great way to kick off your St Patricks Day!!