Na Fianna AC's Bob Heffernan 5km, Kia Road Race Series
The Bob Heffernan 5k road race is one of the oldest races in Co Meath. It is dedicated to the memory of Bob Heffernan who was one of the founding members of Na Fianna AC. This years running of the race took place on May 21st at 8pm. For the second year, the race formed part of the nationwide Kia Race Series, brought to you by Pop Up Races.
There was a record entry of over 750 participants this year, with 630 taking to the start on the night. The race has a reputation for being one of the fastest around, and this years race was no different, with almost 250 runners under the magic 20 minute mark. There are very few (if any) faster races in the country.
The mens podium was the same for the second year in a row, but the positions we not decided until the last 100 yards, when a titanic battle between Hiko Tanosa (DSD AC) and Peter Somba (Dunboyne AC) was eventually decided when Tanosa broke free to win in a time of 14:18, equaling his own course record set in 2018. Eric Keogh, the current Kia Car holder, of Donore Harriers rounded out the top 3.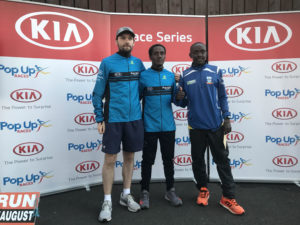 The ladies race was another fantastic battle between Mary Mulhare (Portlaoise AC) and Sinead O Connor (Leevale AC). These two ladies have battled it out in all 3 rounds of this years Kia Race Series, and this time it was the midlands woman Mulhare who took the spoils, with a time of 16:40, 7 seconds ahead of O' Connor who was a further couple of seconds ahead of Ciara Wilson of DMP AC (Ciara missing from image below).
This is round three of the Kia Race Series, and with tables to be updated, it certainly is all to play for with Eric Keogh fighting hard to retain his car in the male series, and Sinead O Connor and Mary Mulhare battling out with Siobhan O Doherty and others at the top of the ladies table.
The Kia Race Series is Ireland's premier nationwide road race series, taking in established club races across Ireland, pitting Irelands best male & female runners against each other, with the overall winners driving away in a brand-new Kia Stonic to use for 1 year. All 3 races to date have seen record entries and record breaking times, as the series continues to benefit the clubs involved as well as the athletes.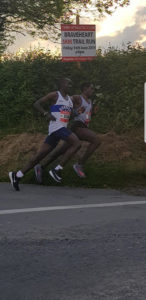 The next race in the Kia Race Series is the Braveheart 5k, hosted by Trim AC (Meath)  which will take place on Friday, June 14th. It is open to all abilities and is encouraging runners to #runyourrace, be it for fun, to set a personal best. For more details, as well as race results and photos, and to enter on-line go to www.popupraces.ie.
ENDS
Notes to Editors:
The KIA Race Series, nine races nationwide

Streets of Portlaoise 5k: 17th March, 11am
Streets of Kilkenny 5k: 18th April 7:30pm
Bob Heffernan (Enfield, Co. Meath) 5k: Tuesday May 21st 8pm
Braveheart 5k (Trim), June 14th 8pm
Dunshaughlin (Meath) 10k Road Race: Saturday June 22nd, 7:30pm
Roscommon 10 Mile: July 6th, 10:30am
Edenderry (Offaly): 10 Mile, July 21st 9:30am
Castlepollard 5k (Westmeath) Wednesday Aug 14th, 8pm
The Lakes 10k (Blessington/Wicklow) September 7th, 11am

Elite runners will be invited to each event and will receive complimentary entry.
Kia Motors Ireland will be offering €1,000 per race in course record bonuses, €500 male / female, as well as two Kia Stonic cars, which the series winners will have use of for one year.
*Terms and Conditions

you must take part in five of the nine races. The series will be scored on a points basis, with points equating to finishing position in each race (5th place = 5 points, 6th = 6 points and so on). Points from the participants five best finishes from the nine events will be added together. The lowest points total for both males and females will be the overall series winner.
Hold a full valid Irish driving licence in order to receive the on-loan car from Kia Motors Ireland for a period of 12 months.
Must be able to provide 12 months fully comprehensive insurance to cover the full value of a Kia Stonic before receiving the loan of the car from Kia Motors Ireland for a period of 12 months

Pop Up Races is Ireland's leading race timing and event Management Company. As well as chip timing, the company provides strategic event management services, ranging from pre-race planning right through to post-event evaluations. For more information, visit: popupraces.ie